By Mike Darwin
"Off with their heads!
Off with their heads!"
That's what Melody Maxim says!
The Queen of Perfusion?
No, that's just a delusion
And once you read this
There will be no confusion!
A creature right out of Alice in Wonderland, Melody Maxim is the Red Queen of Perfusion, condemning any and all to death, who dare to disagree with her.

Eine Kleine Nachtmusik
I loathe the use of the ad hominem in arguments, and the proof of this is that I rarely use it (and much of what I've written is on-line, so this statement can be easily checked). I feel this way about it because I've so often had it used on me. My secondary school years, particularly the first two, were horrible. They took the concept of bullying to a whole new level. My response to this was to keep as low as profile as possible, and to go out of my way not to get beaten up – either verbally or physically. It didn't work. While I can't say I was grateful for the experience, I did learn a lot from it, not the least of which was the understanding that there isn't just one type of "bully" or "harasser." They come in a variety of phenotypes and they are often motivated by very different things.
I also learned that the old axiom about sticks and stones and broken bones is a bold faced lie. Words can and do hurt, and it is a disservice to tell people being injured by them that they are of "no consequence," or should be allowed to "roll off their backs like water off of a duck's back." And so we come to Meoldy Maxim, and the others like her who persist in attacking and threatening cryonicists. There is no reasoning with her, and even honestly agreeing with her on many of her criticisms regarding the poor standard of care in cryonics has no effect. In fact, even having made many of the same criticisms, both before and after her entry into cryonics, has no effect (for example see: http://www.network54.com/Forum/291677/thread/1233270318/Request+for+clarification+from+Melody+on+disagreements+with+Mike+Darwin+%28loose+thread%29).
Two of her favorite hobby horses to ride on her attacks on cryonics are that cryonics has never used extracorporeal medical technology, and that cryonicists misrepresent themselves as medical professionals. I, and many others in cryonics have been the subject of countless electronic and media articles over the years. These reports usually open with, or quickly get to, "the fact that the people performing these (cryonics) procedures are not doctors or, in most cases, nurses…etc." The reporters writing these stories do this for two reasons: 1) because they were told what the qualifications (or more properly, the lack of medical/professional qualifications) of said staff were, and 2) because it makes cryonics seem less credible and more controversial. I have never misrepresented myself as other than what I am, and aside from that being something that seemed the moral and commonsense thing to do at the time, it has also proved to be especially wise in this era of collapsed privacy, and easy access to all manner of information via the Internet. So, it is actually possible to check on these things, and if you want to fess up the money, you can retrieve those countless newspaper and magazine articles.
But that is not satisfactory to Maxim:
http://www.cryonet.org/cgi-bin/dsp.cgi?msg=32645:
"I think it damages the credibility of cryonics organizations, to represent staff members as medical professionals when they are not. In fact, I am often tempted to argue it is a form of consumer fraud. It doesn't take much common sense to  know that people interested in cryonics, who view photos of people appearing to  be performing surgical procedures, while dressed up in medical garb, and being  referred to as "surgeons," "perfusionists," or other specific medical  professionals, will be left with the impression these people have the  appropriate qualifications, to be referred to as such. It would be extremely difficult for me to believe that the people behind those photos and case reports were not fully aware of this."
Yes, it is certainly true that cryonicists have referred to the positions on the cryopreservation team by the medically descriptive names, such as "surgeon" for the person who performs, well performs what? Cannulation? No, that's a medical term, too. And it is equally true that mostly the folks at Alcor and BioPreservation (when it existed), wear surgical gowns and that we always used scrub clothes, drape sheets and other "medical attire" and accoutrements. We did so and do so for the same reason that medical professionals do – to protect the staff, as well as the patient from pathogens. Sometimes, we don't use surgical gowns, because the risk of infectious disease (Hepatitis C with other viral co-infection) makes biohazard-grade Tyvek coveralls a better option. Maxim wants cryonics to be completely staffed by medical professionals and to use only FDA approved medical technology and devices, and yet she vehemently objects when, in fact, a Board Certified perfusionist is "pumping the case" and a licensed physician is performing the surgery and a licensed scrub nurse is handing off the instruments and a respiratory therapist is operating the blood gas equipment.
For myself, I'd be fine with assigning made-up, or de novo names to each of the people who perform the tasks of scrub nurse, surgeon, circulator, perfusionist… as well as creating new garb. The fact is, it never occurred to me or to Jerry Leaf to do so – we were too busy trying to apply medicine to cryonics. In the 1920's and '30's one of the greatest surgeons who ever lived, Alexis Carrel (he developed the definitive technique for anastamosing severed blood vesels, thus making transplantation of solid organs possible) fancied the garb you see in the photo below. Carrel believed that sunlight corroded the brain, and that that was why, "The world's great civilizations have formed far above the equator, where there is much less direct sunlight than in tropical regions."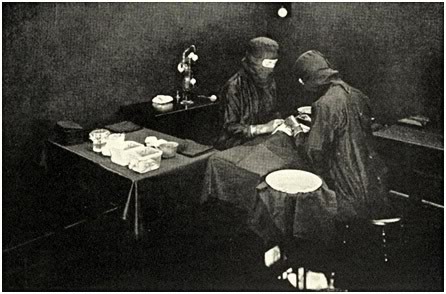 Alexis Carrel with an assistant operating his black operating room, dressed in his black surgical garb at the Rockefeller Institute in the first decades of the 20th century.
But not only wouldn't that satisfy Maxim and her ilk, it would simply give her (and the rest of the world) additional ammunition to label cryonics a cult. And even I have to admit that the picture of Carrel above, is pretty kooky. So, we come to at least the second lesson about a bully like Maxim, and that is that you are damned if you do, and damned if you don't. Use medical equipment and wear protective medical garb (which also happens to be sterile and very low in shed particulates) and you are perpetrating consumer fraud. Fail to do these things and you are a quack. It matters not at all that you have consistently, and for decades, carefully explained that you are not Board Certified medical professionals. And if you do, in fact, follow Maxim's suggestions and, for example, hire the very per diem perfusion service she her self suggested be retained, well, then you are still an incompetent fraud trying to bilk an unsuspecting public of their money.
Harm does not just involve the public's reaction to these posts by Maxim, and others. It can and does involve the devastating impact on the people within cryonics, as well. Men who are professionals, who I interface with in critical care medicine, and who have seen the material Maxim, et al., have written, have remarked that they would never get involved in cryonics, if for no other reason than that they would not want their current or future employers seeing things like "fuckpipe," "animal torturer," or "murderer" come up on a Google search of their name. In a world full of competent people looking for jobs, which one would you pick if your job was on the line for the downstream consequences of making the 'wrong' choice in an employee, strictly from a PR standpoint, and leaving competence out of it. Just log on to Cold Filter (http://www.network54.com/Forum/291677/) and look at Maxim's rants. Yes, those posts are certainly going to make it a lot easier for the medical professionals she claims she wants to populate cryonics, to get involved.
What makes her approach particularly vicious is that virtually from the day cryonics was born, it has been impossible to get those kind of professionals involved on any consistent, reliable or adequate basis, because the majority of the population thinks the idea of "freezing dead people to be brought back to life in future centuries when they can be cured" is barking mad. And they still do. And that attitude had (and has) nothing to do with how cryonics is practiced, then or now. Certainly, progress has been made, in that I no longer have people faint or vomit when the idea is proposed by one of its practitioners (things that happened to me twice in the course of polite party conversation in the 1970s), and there is no longer the rabid response of nihilistic young ecofreaks, "that the world will be destroyed by overpopulation from cryonics if it works and how dare we…" The world is already well on its way to destruction by overpopulation, completely absent any help from cryonics; sanitation and vaccination were more than enough to do the job.
One of the many things I've learned from all of this is that peoples' opinions about cryonics are shaped to an astonishing degree by rumors and hearsay. This is so because cryonics is not accepted and is not a topic of mainstream coverage in the media, or in medicine or government, and therefore it is also exempt from the corrective mechanisms that are normally present in these spheres.
If someone were to credibly, for instance, say that Brad Pitt was a Satanist (i.e., not the National Enquirer), an entire set of powerful mechanisms stands ready and waiting to both refute and punish them, if what they say is both taken seriously, and is not true. And while most average citizens don't know these mechanisms exist, they do know that such statements are not to be taken seriously unless some sort of consensus is present in society. Also, and this is very important, the average person actually (usually) cares enough to ask that critical follow-up question, "How do you know he is a Satanist?" He cares, because if true, that's an incredibly socially valuable piece of information to him, personally. He can then tell his friends at work, his wife and his golfing buddies, "Hey, did you know Brad Pitt is a Satanist! Yeah, there's a shocking video on Youtube, made by one of his former nannies, of him sacrificing little African babies in a Satanic Ritual!"
Of course, if there is no Youtube video, or other credible evidence, such remarks will be dismissed as coming from a nut, or some kind of lunatic who has a fixation on Brad Pitt. By contrast, cryonics is in the unfortunate position of already being considered suspect, and cryonics is also of no consequence to 99.99…% of the population. Therefore, negative remarks further degrading its reputation count vastly more.
When I visited Dearborn Village outside Detroit, MI many years ago, I got lucky, because a Lincoln Scholar from the University of Illinois was giving a guest lecture in Lincoln's relocated courthouse, which is part of the Village campus (Henry Ford did all this in homage to Edison, Lincoln, and others he admired). The topic of his lecture was Lincoln's law practice, and his legal experience as a rural lawyer. As it turns out, the vast majority of Lincoln's cases were libel and slander torts. The reason for this was that people at that time and in that place, had almost no assets. They had few chattels, and even less cash. The nature of the communities in rural Illinois was such that they were both small and geographically remote from each other. Farmers, craftsmen and professionals would thus service a large, but sparsely populated area. All these people had were their reputations (and no, or very little savings to fall back on); and this at a time when much more mattered than if you were competent. If you were said to be an adulterer, a Catholic or a Jew, or any of a thousand other 'bad' things, well, you were very likely to find yourself with no livelihood. Scandal meant something in those days, and it didn't have to involve having 6 mistresses, or engaging in endless nights of cocaine and prostitute filled revelry. All that was required was to be morally purblind or, heaven forbid, even a little dishonest.
That is what is happening to cryonics, and I know this to be so when a respected cardiac surgeon in INDIA, who knows me only via the web, drops me a note saying, "Mike, I was under the impression you guys in cryonics used CPB technology…what is this all about?" At least he asked. Most wont.
The Bard said it best in Othello:
"Iago:
Good name in man and woman, dear my lord,
Is the immediate jewel of their souls.
Who steals my purse steals trash; 'tis something, nothing;
'Twas mine, 'tis his, and has been slave to thousands;
But he that filches from me my good name
Robs me of that which not enriches him,
And makes me poor indeed."
Response to Melody Maxim
In a message dated 1/23/2011 2:00:09 A.M. Pacific Standard Time, owner-cryonet@cryonet.org writes:
Message #33264
From: "Melody Maxim" <perfusion333@comcast.net>
References: <20110122100001.21427.qmail@rho.pair.com>
Subject: In Response to Mike Darwin's "Automated Data Collection" Post…
Date: Sat, 22 Jan 2011 15:31:09 -0500
MM: It is absurd for Mike Darwin to maintain that cardiovascular perfusion is "very simple to automate compared to some of the unbelievably complex and exacting manufacturing processes (he's) seen automated.. It can be surprisingly difficult, even if you have you have experts, and enormous computing power at your disposal." [sic] (*Note: Mr. Darwin refers to cardiovascular perfusion as "cardiovascular bypass," terminology that might be confusing to some, as indicated by Perry Metzger's Cryonet response to Mr. Darwin, in which Mr. Metzger appears to be asking if Mr. Darwin is referring to automating an entire cardiovascular surgical procedure. (Cryonet message
33257))
MD: First, if you want to have a respectful technical dialogue you should, a) be sincerely interested in a dialogue, and b) treat your correspondent respectfully. Words like "absurd" and "arrogant" don't work anywhere in any forum of debate or discussion; with the possible exception of politics and religion – and neither are under discussion here. If you can't do that, you will either need to go elsewhere, or you will get no response from me, or most others here.
While it is technically correct to use the words 'cardiovascular perfusion,' (since the circulatory system may also properly be referred to as the cardiovascular system), the more correct terminology is 'cardiopulmonary perfusion.' However, even t hat term is a bit of a misnomer, because during much of the interval when perfusion is carried out during cardiac surgery (its most common indication) the pulmonary circulation of the lungs is, in fact, poorly perfused and usually not perfused at all. This is because the patient's heart is arrested with cardioplegia (to allow the surgeon to work on it with greater ease and to spare its high energy reserves) and the right ventricle is unable to perfuse the pulmonary circulation. The lungs do have a separate parenchymatous circulation, and this does continue to be perfused in most clinical settings where CPB (cardiopulmonary bypass) is employed. However, under low flow/low pressure conditions, lung parenchymal perfusion may be absent, or reduced to trickle flow.
MM: It's nonsensical to assert that something "very simple" is at the same time "surprising difficult," even in the hands of experts with unlimited  technological resources. Even more than that, it is preposterous to compare the manufacturing of a specified component, or device, which requires the same, precise, repetitive steps, time-after-time-after-time, to the perfusion of human beings.
MD: Yes, it would be nonsensical to assert those things if I had said what were being attributed to me. But in fact, I did not say "unlimited technological resources," because, to the best of my knowledge, no one has those at their disposal; and I did not compare automating CPB to "the manufacturing of a specified component, or device, which requires the same, precise, repetitive steps, time-after-time-after-time."
The difficulties of automating CPB relate to its dynamic nature, the complexity of the controlling decision tree required, and to the 'dynamic rates of change' nature of many of its features – the latter of which are addressed in mathematics by the calculus. Having said that, CPB is, in fact, fairly straightforward to automate (within limits) when compared to other complex procedures that have been automated. A wide range of manufacturing processes involve similarly nettlesome problems with regard not only to change in pressures, volumes and flows, but also with respect to the rapid addition and removal of heat (again, a rate of change of problem). And while many of these processes do involve very uniform systems, some do not.
Landing jetliners, contrary to MM's assertion, is in fact a good example of this, because this task is every bit as complicated as perfusion, if not more so. Computerized control of landing requires enormous integration of data from multiple control surfaces on the aircraft under widely varying conditions; and in fact, not only widely varying conditions, but dynamically varying conditions. With automation, it is possible for aircraft to do things that no human pilot ever could.  For example, at airports equipped with category IIIc ILS (instrument landing system) aircraft can use their 'autoland' function to land in zero visibility conditions.1 That's mind blowing when you think about it: 500 lives hurtling at 200 miles per hour toward a runway that no one can see, with no pilots touching the controls, and with the safe bump of landing gear on the pavement being the first clue that the ground has been reached. Under such conditions, rates of change problems become paramount, just as they do in CPB. And, I would be the first to admit that I had absolutely no idea that this would be the case when I set out to undertake this task (in conjunction with others blessedly more knowledgeable than me).
MM: Responding to Mr. Darwin's automated airplane/perfusion analogy, it doesn't
matter WHY the wind blows, or WHY the terrain rises, it only matters that the plane must maintain its center of gravity and stay above the terrain. However, it DOES matter why venous return to a heart-lung (perfusion) machine diminishes. Did the patient's blood vessels dilate, resulting in more volume remaining in the patient, and less returning to the machine? If so, the proper response might be administering vasoconstrictors. Is the surgeon pulling the heart over, so that he can work on the posterior side, temporarily interfering with the venous return to the machine? If so, the
proper response is to temporarily adjust the flow rate, provided that doing so does not result in the patient being inadequately perfused. Has something happened, which resulted in an unexpected loss of blood, from the patient, or perfusion circuit? If so, that situation needs to be recognized and corrected, immediately, and volume must be added to the system, to replace that which has been lost. (This discussion is simplified, and intended to be for an audience of laymen. There are many factors, in regard to both the causes, and the responses, to such a situation.) If the returning volume is suddenly depleted, does the computer have discussions with the anesthetist and the surgeon, to determine the cause of, (and, therefore, the proper response to), such a situation? This is only one example of MANY issues, which perfusionists must respond to, on a case-by-case basis; a situation that precludes the use of fully-automated perfusion systems. There is nothing in the perfusion process, similar to the precise manufacturing of components, or devices, no matter how complex that manufacturing might be!
MD: Now, we are onto the real issues here. As a matter of fact, it does matter WHY the wind blows and WHY various control surfaces (and the aircraft's position) respond as they do, and for much the same reasons as changing physiological parameters matter in CPB. If descent is a little faster than predicted, is it because the ailerons are not responding appropriately, the air density is unexpectedly low (low barometric pressure), or the engine speed is inadequate - or because any or all of these values are being reportedly incorrectly?
This is what the 'control center' (formerly the engine room) of a contemporary state of the art cruise ship or large cargo vessel looks like: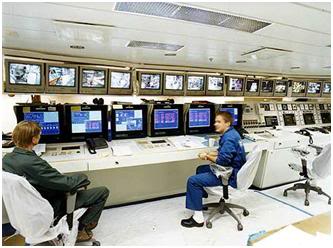 Engineering control room of a modern, computer controlled cruise ship (L).
Virtually every function of the ship is automated and requires 'only' intelligent oversight. As is the case in CPB, many of the systems within the ship are in continuous, dynamic interplay with each other – as is also the case in living organisms. These systems are increasingly being merged – with water distillation for bathing and cleaning being integrated with heat exchange operations, such as cooling the generators that provide power, not just for the ship's electrical systems, but for the azipods[1] that are now rapidly replacing propellers and diesel engines. I could go on for pages about large ocean vessel automation; I've been all through these kinds of vessels, and sat for hours on the Bridge and in the engineering (or control room: engine room is passé). In many ways, these systems dwarf automation in aviation because pretty much the entire ship's systems are now under computer control – the generators, electrical load management, azipods, heating, cooling, water and waste processing, are dynamically controlled by computers.
Since these systems are increasingly integrated and interdependent for increased energy efficiency, they behave much like physiological systems. For instance, if you are moving waste water around to treat it for discharge and/or reprocess it for cooling the generators' engines, you will likely affect the CG of the ship, as well as its hydrodynamic behavior. Of course, sea conditions can do this, as well as fuel use, movement of cargo or ballast, and so on. The computerized systems integrate all this data and seamlessly adjust the ship's stabilizers, azipods and other control mechanisms to compensate – as well as dynamically adjust the ballast. Each seagoing vessel also has a transponder which continuously broadcasts a unique identifier number, which includes the vessel name, type of cargo, destination, course and current heading (among other things). All of this data is displayed on flat screens on the Bridge in real time, and the on board computers can and do, dynamically adjust the course to avoid collisions.
Cruise ships, in particular, are very sensitive to any disturbance which could cause passenger discomfort. They also have a highly mobile cargo, massively complex infrastructure (they are actually self contained cities, much like long-haul star ships) and they consume enormous amounts of power for refrigeration and HVAC. All of this is managed by process control systems that dwarf CPB in their complexity, and in their criticality to human life.2 Spend a few days with unfettered access on a state-of-the art container ship and cruise ship (the latter should be at least Panamax class, and preferably built within the past 10 years).  Each is impressive in its own unique way, and each represents a pinnacle of automation and technological achievement that I think very few people understand exists.
Similarly, the Bridges of large, state-of-the-art cargo ships are almost completely automated and typically require the oversight of no more than 2 men at one time – an incredible feat of programming and engineering. And when I say oversight, I mean just that – mostly the First Officer and Captain sit and do paperwork. The degree and sophistication of automation required to operate such a ship, largely absent human intervention, dwarf the automation of CPB at a comparable level of oversight.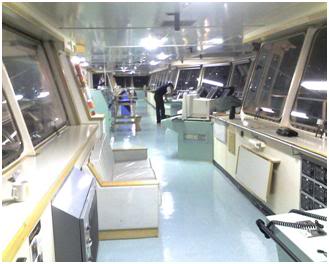 Automated Bridge of a contemporary state-of-the-art large container (cargo) ship.
Changes in physiological parameters can indeed have multiple causes, and may in fact occur because several very different mechanisms are at work at the same time and are interacting with each other! Arterial pH is a fairly straightforward example to use. If a patient's pH declines to a level deemed unacceptable, it could be due to any of the following things (at a minimum): inadequate ventilation (which in turn could be due to inadequate O2 delivery and/or inadequate CO2 removal by either the gas blender or due to failure of the oxygenator), global hypo-perfusion, regional hypoperfusion, administration of large volumes of low pH parenterals (typically IV fluids), and so on. If you want an automated system to control patient pH dynamically, that system has to be imbued with both the tools and the intelligence to discriminate amongst the possible causes, determine which causes are operational at the moment, and act to intelligently correct them.
Such correction may entail more than one intervention since the 'cause' of a drop in arterial pH may be due to several causes – although usually this is not the case. And this complex interaction becomes greatly amplified when it is understood that pH effects vascular tone, and thus can cause vasodilatation, resulting in decreased mean arterial pressure (MAP, blood pressure), or the converse. Any robust automated system has to be able to look at the 'big picture' and make the correct adjustments. These things I understood very well when I began the effort. However, what I did not understand was the 'invisible experience' that most humans have when it comes to dealing with dynamic systems where rapidly varying (and recursive) rates of change of are involved. This is hard for me to explain, but I'll do my best.
When I first sat down with a couple of clinical perfusionists and began to work on this project, the thing we all 'missed' at first, is that you cannot just specify 'high' and 'low' numbers for things like arterial and venous pressures, or for arterial flow, at which point the machine will 'act' by adjusting said pressure or flow to the desired value. In other words, you cannot just program in 'alarm limits' to which the machine will respond. It turns out that most such corrections to physiological parameters are made more or less unconsciously, and are based to a significant degree on the observed rate of change, and even on the shape of the curve of the rate change!
Central venous pressure and pulmonary artery pressure proved particularly difficult to control because they must be kept low (in absolute terms), there is very little range to work with, and they may vary based upon a number of interacting factors, some of which can change with incredible rapidity (i.e., the venous return line from the patient becomes suddenly occluded). If you wait to intervene until some 'target' number is reached, you will almost always over- or under-shoot, and the same will be true of subsequent efforts to correct the pressure and return it to the desired range: thus, a vicious circle of positive feedback results. As it turns out, this is a common problem in process control, and there are program algorithms to deal with it. The standard algorithm used for process control is something called PID, which is short for Proportion/Integral/Derivative control.3 This means that in, say, controlling pump speed to maintain a target perfusion pressure, the system will look at three things: How far you are from the target pressure ('proportional'), how fast to incrementally change the pump speed to approach the target pressure ('integral'), and how fast the target pressure is being approached ('derivative').  The art of process control is in tuning the values of these three parameters so that targets are reached and maintained as quickly as possible, and without overshoot.
Thus, I learned that a lot of what constitutes 'gaining experience' in things like perfusion, or piloting aircraft, is learning to apply corrections that, while they may seem 'set point' driven, are, in fact, very complex responses to equally complex changes in a dynamic system.
MM: Perfusion IS automated, to a large degree. Perfusionists can program their machines to respond to various parameters, in a variety of ways. For example, the machines can be made to automatically adjust flow rates, in response to pressure; or to turn off a pump and clamp the patient lines, in the event of inappropriate pressures, or air in the lines. But, what happens after that?
MD: I would hardly consider such simple control any kind of high order automation. Here we touch upon another issue: the degree to which you wish to automate perfusion or perhaps more accurately, the scope of automation that is being pursued. Nowhere in what I wrote did I suggest (or even imply) that the level of automation we were pursuing would replace a knowledgeable person. In fact, I was at pains to point out that this was not the case; at least not with the resources (or objectives) at our disposal 15 years ago! While our objectives were indeed daunting, they comprised only a small subset of the requirements that would pertain in an operating theatre, where 'perfusion' might consist of a routine CABG, a double valve replacement, or resection of a brain aneurysm under deep hypothermic circulatory arrest.
What we were aiming for (and largely achieved) was a system that could initiate CPB in an animal (dog) after ~15 min of normothermic circulatory arrest, restore both cardiovascular and basic metabolic homeostasis (pH, A&V blood gases and regulate blood glucose), and induce hypothermia to a pre-specified degree. An additional (non-CPB related) requirement was the controlled and feedback-driven administration of a number of cerebroprotective drugs – some of which perturbed MAP.
MM: Someone, who knows how to assess the situation, and produce the proper response, must be operating that machine. I find it quite arrogant, for Mr. Darwin to claim he has tried to automate perfusion systems and has found it difficult. Does Mr. Darwin think he compares to the scientists, perfusionists and engineers, involved in equipment development, with the major manufacturers of perfusion equipment? While I'm sure Mr. Darwin has toyed with primitive perfusion equipment, at cryonics facilities, he is not a perfusionist, or an engineer, and he certainly does not have resources
comparable to those of companies, which specialize in perfusion equipment, such as those mentioned here: http://www.perfusion.com/cgi-bin/links/default2.asp?tree=558
MD: As I pointed out earlier, our efforts were undertaken 15 years ago. Having said that, yes, we were in fact working with state-of-the art equipment where that was possible and appropriate. For instance, we did not try to build our own gas blenders, blood pumps, reservoir level sensors, or ultrasonic air bubble detectors. Where it is possible to use a developed and reliable commercial product, only a fool or a very poor (and/or desperate) person chooses to do otherwise. We were neither that foolish nor that poor. We used costly state-of-the art LabView data acquisition and process control hardware and software as opposed to trying to do our own programming or solid state electronics design.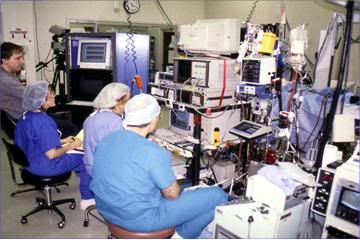 Automating basic cardiopulmonary bypass in the late 1990s at 21CM. Today, the process control and computing equipment occupying the panel rack at the left of the photo above would fit easily into a space about the size of two laptop computers – and still have capacity to spare!
However, it should be remembered that in much of the world people are desperately poor, and they must 'engineer on the fly' if they are to survive.4,5 They often do so, and in fact, more often than not they do so with stunning efficacy. I've seen plastic soda bottles used as re-useable re-breathing reservoirs in patients getting O2 therapy, soda bottles used with aquarium frits as humidifiers on ancient (but working) ventilators, and CPB performed where the same blood filled circuit and oxygenator (sans filter) are used on 3 successive patients (with compatible blood type and cross match). Are these things desirable? Of course not, and they carry risks that would be completely unacceptable here in the developed world, where I happen to be at the moment. But, to patients who are confronted with otherwise certain death, and to their treating physicians who have no other alternative, these kinds of compromises save lives – a lot of lives. Similarly, in most Third World countries, many disposable medical devices are reprocessed and reused – often many times – with little or no downside. Disposable oxygen masks, nasal cannulae, O2 conductive lines, suction lines and canisters, and many more devices can be safely and reliably reused providing good protocols for doing so are in place, and well trained people inspect the end product.
As to interfacing with the manufactures of perfusion hardware and disposables, I was lucky to count as a colleague the then CEO of Gish Biomedical, who was incredibly generous with disposable components, and who provided access to his engineers at no cost during this project. Ditto Sarns. These companies were interested in what we were trying to do and they provided as much informal support as I could have wished to have. In fact, it was from these people in industry that I was first acquainted with the real problems that stood in the way to developing this technology, problems I didn't understand, because I lacked their enormous expertise and, more importantly, experience with the commercial and regulatory environment. While I lacked these things, I didn't lack the wisdom to go in search of them elsewhere.
Before FDA regulation of medical devices (which is comparatively recent), the barriers to doing something like automating CPB to the extent we trying to achieve would have been far lower, if for no other reason than that the interface of hardware, software and drug delivery components would not have been subject to FDA vetting.6 This raises the cost of approval considerably. Additionally, the then (and now) current market for in-field CPB, using automated systems, is virtually non-existent. As was pointed out to me, even if 20,000 cases per year presented (about 10% of the sudden cardiac death population in the US at that time) it would still be uneconomical. And indeed, when 21CM ultimately began licensing discussion with Pharms for the cerebroprotective regimen we had developed, the projected marketplace, when considered in the context of the certain regulatory approval costs, was deemed way too small.
While 150,000 or even 250,000 patients/year may seem like a lot, it really isn't when you consider that the complex technological platform of multiple novel drugs, and sophisticated hardware and software would only be used, on average, ONCE by each patient who needed them. Development and regulatory costs for drugs are now so high that big Pharma has concentrated its efforts primarily on drugs that will require extended, or preferably life-long use (i.e., psychiatric drugs, dyslipidemia drugs, antihypertensives…)  and on drugs that will command large reimbursements because they deliver comparably dramatic results (such as Gleevec and other targeted 'molecular therapeutics' for cancer).7
MM: Darwin wants to argue that such automation could require less-skilled personnel, something I find disturbing. Someone who does not routinely assemble and operate perfusion equipment is very unlikely to be able to assess, and correct, problems that might occur with an automated-system failure. Would Mr. Darwin like someone who has memorized the contents of a dozen aviation textbooks, but never flown an airplane, to be sitting in the cockpit of his commercial airliner, when the computer goes out? I find his argument for "knowledge without reflexes" being "sufficient," (in regard to cardiovascular perfusion and flight), to be absolutely ludicrous.
MD: Given the statement above, Maxim may soon have to give up flying altogether,  because not only are most commercial jetliners piloted most of the time by computers, the latest generation of high performance aircraft cannot even remain in the air without them – pilot or no pilot. The advent of highly reliable automation has led to the design of aircraft that are inherently unstable. In other words, these aircraft must be provided with continuous and very complex adjustment to their control surfaces to remain airborne; so called fly by wire (FBW) control. Examples of such aircraft are the F-117 Nighthawk and the B-2 Spirit flying wing.
The Grumman X-29A is an example of an extremely inherently unstable aircraft whose design elements may soon be adapted for civilian use.
Piloting inherently unstable aircraft is so complex and difficult a task that human beings cannot do it. High performance aircraft that have FBW controls (also called CCVs or Control-Configured Vehicles) may be deliberately designed to have low, or even negative aerodynamic stability in some flight regimes; in which case the rapid-reacting CCV controls compensate for the lack of inherent stability. The use of CCV technology allows for a large weight reduction in the aircraft by eliminating most of the hydraulic and electromechanical controls formerly necessary, and it dramatically reduces the workload and fatigue of the flight crew. Yet another powerful advantage in this era of skyrocketing fuel prices is that CCV technology increases fuel efficiency by optimizing control of the aircraft and by eliminating 'pilot induced oscillations' which negatively impact fuel consumption. So powerful is CCV, that an entire book has been written credibly suggesting that pilot Sully Sullenberger's 'miraculous' emergency landing of that US Airways Airbus A320 on the Hudson river after it was disabled by geese entrained in the engines, was not so a much a miracle as an artifact of CCV technology (see Fly By Wire: The Geese, the Glide, the "Miracle" on the Hudson by William Langewiesche)! An interesting interview with Langewiesche on his book is available here: http://www.amazon.com/Fly-Wire-Geese-Miracle-Hudson/dp/0374157189.
Coming down the pipe are the Intelligent Flight Control System (IFCS) which NASA-Dryden demonstrated as workable in 2002.8 The IFCS allows the aircraft to continue in flight and lad safely even after serious damage to the aircraft control surface or airframe damage would normally render the flight control system's worthless, or put less politely, no longer controllable by a human pilot. IFCS uses neural network technologies with state-of-the-art control algorithms to correctly identify and respond to changes in aircraft stability and control characteristics, and immediately adjust to maintain the best possible flight performance during such failures. The neural network computer and software 'learns' the new flight characteristics of the damaged aircraft in real time, 'helping' the pilot to maintain or regain control and prevent a catastrophic failure. This system has succeeded in landing severely damaged aircraft in testing.
As to Maxim's statement that my "argument for 'knowledge without reflexes' being "sufficient," (in regard to cardiopulmonary perfusion and flight), to be absolutely ludicrous," the answer is, "Not at all." I assume that Maxim has not pumped a case in some time, in which case she is just such a person as I describe; she has knowledge, but not reflexes. The same would be true of a race car driver who has not raced in 6 months (or maybe less!) or a pilot who has not flown for a year. Maybe one of the best examples I can offer is that of a 'retired' gymnast or ballerina who teaches these arts. Physiological limitations related to aging make the careers of these people extremely short. In the case of gymnasts, their careers are pretty much over by their early to mid-20s. They have the knowledge, but they no longer have the 'reflexes,' or even the physical ability to perform. However, they make superb instructors, and they can detect errors with great speed. But more importantly, they have the 'meta-knowledge' that the novice does not have. That is what I meant by 'knowledge without reflexes.' I know very well that I would experience an unacceptable failure rate if I were to walk into an OR and try to do CPB on a research animal under demanding conditions after 10 years away from doing CPB at all. Indeed, I would want to start out slowly, and partner with an up-to-speed perfusionist before I 'soloed' again. I assume the same would be true of a clinical perfusionist who had long been away from the OR.
The advantage that a well automated CPB system provides is that it allows the skilled person to focus on the use of his high order knowledge without being occupied with housekeeping tasks. In fact, it was for just this reason that automated piloting and landing of jetliners was developed. This technology was not developed in order to let pilots wander about the cabin chatting with passengers while the plane was being landed. Nor was it developed to cover the contingency that the pilot and copilot might both be dead or disabled, or that the pilot and co-pilot might be in a particularly compelling discussion about scheduling, and allow the aircraft to fly blindly on past its destination by hundreds of miles, as happened recently. Rather, it was developed for just the reasons I've laid out here.
Our incentive to develop this technology at 21CM was that the interventions required for restoring homeostasis, rapidly inducing therapeutic hypothermia after prolonged cardiac arrest and simultaneously administering over a dozen different drugs, were simply beyond the ability of humans – any humans, to carry out reliably. There are some things people can't do, even in medicine, and as a consequence we see the advent of robotic surgeons, IV fluid administration systems that can shape the curve of a drug dose and impose periods of 'ramp and soak' that would require the full time attention of a human, and still be done badly. There are even programs that alert physicians and pharmacists to medications conflicts as they write prescriptions, because humans are miserable at remembering such information.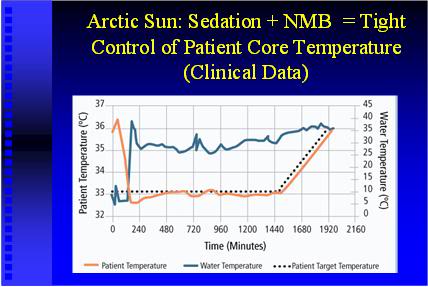 Perhaps the best example is one of the simplest. With the advent of mild therapeutic hypothermia (MTH) as the internationally recognized treatment of choice for post cardiac arrest encephalopathy, it is now necessary to impose ~3 deg C of hypothermia with very tight control of temperature for 12-24 hours post-insult, followed by controlled, slow re-warming to normothermia.9,10,11,12 Note that while there is only one parameter to control in this system (temperature) – humans are horrible at it – even if you set one person full time on these two tasks. It also turns out that simple 'set point' systems, like those present in most medical cooling blanket systems which use feedback from the patient in the form or rectal or esophageal temperature, are also awful at tight temperature control. Such systems routinely over- or under-shoot the required temperature, and as a consequence, much more sophisticated devices, such as the Arctic Sun (external) and the CoolGuard (intravascular) clinical hypothermia systems which use complex algorithms to impose and maintain MTH, and carry out re-warming, have been developed, and are finding clinical acceptance.13,14,15,16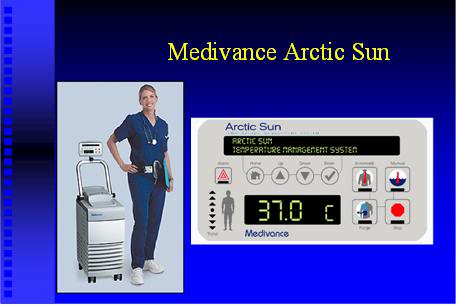 Humans are simply incapable of the precision process control required for things like imposing artificial temperature homeostasis in critically patients without the assistance of automation.
MM: Mr. Darwin's remarks about a market not existing, for automated perfusion,
resulting in "no economies of scale…that further drives up the price and  drives down the reliability of any system you do develop," is just as ridiculous as most of his other observations and speculations. The perfusion disposables I used two decades ago, cost approximately $1,600; today, the same disposables are around $500. I'm not a financial expert, but the machines, themselves, seem not to have increased more than that due to ordinary inflation. If there has been an increase, it has probably been due to the developments in the computerization/automation features! Salaries also seem not to have risen, other than increases due to inflation, over time. Never before has perfusion been so technologically-advanced, reasonably-priced, or safe. It is much more likely that heart surgery will eventually be performed, without the use of perfusion, than with the use of fully-automated perfusion, as evidenced by an ever-increasing number of
"off-pump" procedures. (Of course, this has nothing to do with cryonics. Heart surgery can sometimes be performed, without the use of perfusion, but the vitrification of human bodies cannot.)
The tipping point as to when a technology becomes cost effective and viable to use is one upon which fortunes are made and lost – and not just in medicine. Fully automated CPB will require the development of very sophisticated AI and robotics; and I don't see that as being around the corner. As MM points out, in the 15 years since we undertook our pilot project, there have been incremental (but important) advances in the 'automation' of CPB – but these are almost exclusively concerned with discrete safety issues, as opposed to a more global management of the integrated procedure. Personally, I think perfusion would benefit from a far higher degree of automation, just as the airline industry has. People don't do well at boring, repetitive tasks, like steering a jetliner (continuously) across the country. It's better and safer to use them for what they are still currently the best at – meta-level, high order judgment and reasoning. Of course, when a jet liner goes down, it is big news and many people die very publicly and at once. Errors in the OR are not such big news…
Beyond that, in-field automated CPB is currently a product in search of a market that can enable and sustain it. The development of such a market will (IMHO) likely be incremental, and be driven by things like MTH, the approval of effective drugs for post-ischemic brain rescue, and so on. When it becomes clear to a broader cross section of clinicians and business people that a lot of lives can be saved (or enough), and that there is money to be made, then such technology may be developed. Still, arguably the greatest barrier to application of essentially 'immediate' in-field CPB is the problem of vascular access. Even with the advent of compact, hand-held imaging devices that allow for non-invasive (or minimally invasive) vessel location, and a growing array of percutaneous vascular access devices, this enabling part of CPB still requires a lot of skill and knowledge which are time consuming to apply, and are also not likely to be automated soon.
MM: The fact that Mike Darwin is one of cryonics' greatest "superstars" should be quite telling. How many cryonics projects have been directed, on the advice of Mr. Darwin and others like him? How many of those projects were based in ignorance of existing equipment and technology? For so long as people like Mr. Darwin and his peers are considered to be "experts," in cryonics experiments, there is likely to be nothing more than ample misdirection and false promises. It seems a very small group of self-interested people have made, what could be an interesting scientific experiment, a total sham. (By "self-interested," I do not mean people who are interested in extending their own lives; I mean people who are primarily interested in maintaining their over-inflated egos and/or bank accounts, by maintaining control of experiments and/or projects, which they are not capable of leading.)
When Maxim writes, "How many cryonics projects have been directed, on the advice of Mr. Darwin and others like him? How many of those projects were based in ignorance of existing equipment and technology?" she should put up or shut up. How about a list of these projects that I have directed, or advised be undertaken, and that have demonstrated such ignorance, and proved so useless? Note, I am not asking for a list of such projects by 'others like me,' but rather, of projects for which I have been personally responsible.
I don't consider myself a 'superstar' at anything, and as near as I can tell, that judgment is widely shared (and is especially fervent within) the cryonics community. However, I also don't think that most of what I did in my years of working in and on cryonics, or biomedical research, was based on ignorance of existing medical technology. Indeed, often the reverse was the case; the technology simply didn't exist (and often still doesn't exist), or the medical community, primarily treating physicians (as opposed to drug or device makers), were either ignorant of the benefits of an emerging technology, or were actively opposed to its use (mostly as a result of prejudice and laziness).17 This was certainly the case (and still largely is) with MTH, as just one example.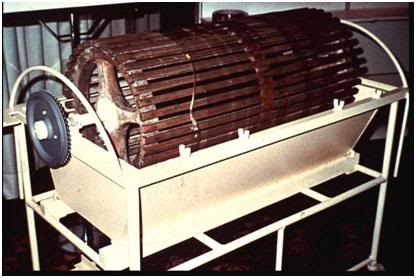 Willem Kolff's prototypical dialysis machine: what would Maxim have done to Kolff – especially when consideration is given to the fact that all 17 of Kolff's first patients died – many as a direct result of complications from the treatment?
In the particular case under discussion, automated (or more properly, partially automated emergency in-field CPB), the then extant manufactures of CPB equipment and consumables were both interested in, and supportive of our efforts, because they all began themselves in pretty much the same way, operating under pretty much the same conditions. Willem Kolff made his first clinical dialysis machine from a custom fabricated enamel pan, a Ford fuel pump (used to circulate the dialysate), unpainted wooden slats and sausage casing (which he passed the patient's blood through).18 I knew Kolff personally, and there was nothing he would NOT use in medical device fabrication if he thought it was the best item for the job.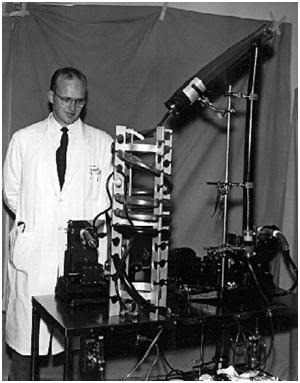 C. Walton Lillehei, and his beer tubing and industrial finger pump heart-lung machine, in the early 1960s.
The early days of CPB were characterized by the in-house fabrication of MOST of the equipment that was used and that had blood contact, and a wide variety of common household and industrial items were pressed into service. The first clinically applied bubble oxygenator was made from PVC tubing used in beer breweries (the DeWall oxygenator) and C. Walton Lillehei began the University of Michigan's stellar cardiac surgery program using this oxygenator, and a hemolysis inducing peristaltic finger pump made by the Sigmamotor Company, for industrial applications!19 It was a long hard road from the beer tubing oxygenator above to the first commercially produced Travenol disposable bubble oxygenator below.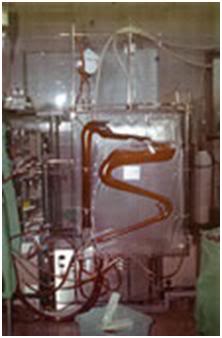 The Travenol DeWall bubble oxygenator marketed in the mid-1960s.
It took the better part of a decade for manufactures to enter the field, like PEMCO in 1961, and a bit later, Dick Sarns, who founded Sarns, Inc. Before that, surgeons, and their nascent perfusionists fabricated their own hardware.  Maxim should read G. Wayne Miller's superb biography of Lillehei, King of Hearts: The True Story of the Maverick Who Pioneered Open Heart Surgery, ISBN-10: 060980724 , J. Stewart Cameron's, A History of Dialysis, ISBN: 0198515472, and David Monagan's, Journey into the Heart, ISBN-10: 1592402658. Monagan's book is a fascinating exploration of the development of cardiac catheterization and it brilliantly captures how even such recently such developed medical technologies are initiated using commonplace and often crude materials to fabricate truly revolutionary medical devices.
No doubt, Maxim would have stomped down these innovations in their infancy – particularly CPB, since coronary artery bypass grafting (CABG) was inferior to medical management of coronary artery disease in terms of survival until the 1980s, and arguably was not proved otherwise until the Veterans Affairs Cooperative Study of Coronary Artery Bypass Surgery for stable angina was published in 1992!20 Indeed, even the most recent studies show CABG benefits only patients with > 50% stenoses in their left anterior descending coronary arteries (LAD), or a "LAD equivalent" stenosis (> 70% stenoses of both proximal LAD and proximal left circumflex arteries), and in 3-vessel disease in terms of improved survival over medical management. 21,22,23,24 When consideration is given to the fact that the one of the most recent studies of the neurological injury that attends CPB demonstrated a ~50% incidence of both functional and structural neurocognitive injury as a result of CPB,25 one must wonder what Maxim would have to say about her own career, if it happened to belong to someone else?
Even more to the point, both established pharmaceutical and medical device companies are increasingly relying on tiny start-ups and entrepreneurs to do the hard and mostly unrewarding work of finding and developing new products that will actually be viable. Big companies in the US are awful at identifying and developing fundamentally new technologies, and the emerging pattern is for such large companies to either license, buy the new technologies they ultimately market from small start-ups – or to buy the new companies outright.
It's ironic that Maxim chose to label me, of all people in cryonics, as being ignorant of CPB technology, let alone of failing to use it. As soon as such technology became affordable I used it, and in fact, it was Jerry Leaf and me, who, in the face of considerable criticism from the cryonics community, introduced virtually every element of CBP technology into cryonics that was appropriate (some items, such as large reservoirs to hold CPA solutions were (and are) not medically available). The proof of this is in the case histories published by Jerry and me, and later by me of cases I presided over after Jerry's cryopreservation.
What is the basis for such an outrageous claim by MM? The answer: there is clearly none whatsoever.
[1] Azipod is the registered brand name of the ABB Group for their azimuth thruster. Originally developed in Finland jointly by Kvaerner Masa-Yards dockyards and ABB, these are marine propulsion units consisting of electrically driven propellers mounted on a steerable pod.
Selected Bibliography
1)    Langewiesche, W. Fly by Wire: The Geese, the Glide, the "Miracle" on the Hudson. Farrar, Straus and Giroux, November 2009, 208 pp, ISBN: 0374157189.
2)    To get some idea of the staggering complexity of the automation required to manage a modern cruise ship you can take a peek inside Royal Caribbean's ship, Freedom of the Seas, here: http://www.youtube.com/watch?v=YY-3fipCTDw&feature=related. It is due in large measure to this automation that luxury is affordable (and hence possible). Consider that ~$100/day it is possible to dine on gourmet food 24 hrs/day, enjoy live theatre, water sports, and just about every other amenity imaginable, and to do so while at sea! It is passing impossible to find an average hotel room on land in or around any big city for $100 a night – and that does not include food, entertainment, gym facilities, gaming, and excursions – all you get is place to sleep and clean up.
3)    Bennett, Stuart (1993). A history of control engineering, 1930-1955. IET. p. p. 48. ISBN 9-780863412998.
4)    Borst, HG. The hammer, the sickle, and the scalpel: a cardiac surgeon's view of Eastern Europe. Ann Thorac Surg 2000;69:1655-1662: http://ats.ctsnetjournals.org/cgi/content/full/69/6/1655. Retrieved 2011-01-29.
5)    Bokeria L.A. History of cardiovascular surgery. Moscow: Bakoulev Scientific Center for Cardiovascular Surgery, 1998.
6)    Higgs, R. Wrecking ball: FDA regulation of medical devices. Cato Policy Analysis #235, August 7, 1995. http://www.cato.org/pubs/pas/pa-235.html. Retrieved 2011-01-30.
7)    DiMasi, JA, et al. The price of innovation: new estimates of drug development costs. Journal of Health Economics 22 (2003) 151–185. http://cryoeuro.eu:8080/download/attachments/425990/CostOfNewDrugDevelop2003.pdf.
8)    NASA  – NASA Dryden Fact Sheet – Intelligent Flight Control System: The Intelligent Flight Control System (IFCS) flight research project at NASA Dryden Fact Sheets. Text Size. Grow Text SizeShrink Text Size. 02.13.06 http://www.nasa.gov/centers/dryden/news/FactSheets/FS-076-DFRC.html.
9)   Nolan JP, Morley, PT, Vanden Hoek, TL, et al. Therapeutic Hypothermia After Cardiac Arrest: An Advisory Statement by the Advanced Life Support Task Force of the International Liaison Committee on Resuscitation. Circulation. 2003;108:118 – 121.
10)  Hypothermia after Cardiac Arrest Study Group. Mild therapeutic hypothermia to improve the neurologic outcome after cardiac arrest. N Engl J Med. 2002; Feb 21;346(8):549-56. Polderman, Kees H. "Application of therapeutic hypothermia in the ICU." Intensive Care Med 2004;30:556-575.
11)  Bernard SA, Gray TW, Buist MD, Jones BM, Silvester W, Gutteridge G, Smith K. Treatment of comatose survivors of out-of-hospital cardiac arrest with induced hypothermia. N Engl J Med. 2002;346(8):557-63.
12)  Arrich J, Holzer M, Herkner H, Müllner M. Hypothermia for neuroprotection in adults after cardiopulmonary resuscitation. Cochrane Database Syst Rev. 2009;7;(4):CD004128. Review. PubMed PMID: 19821320.
13)  Haugk, Moritz et al. "Feasibility and efficacy of new non-invasive cooling device in post resuscitation intensive care medicine." Resuscitation. 2007;75, 76-81.
14)  Hoedemaekers, CW, Ezzahti, M,  Gerritsen , A, van der Hoeven, JG. Comparison of cooling methods to induce and maintain normo- and hypothermia in intensive care unit patients: a prospective intervention study. Crit Care. 2007; 11(4): R91. Published online 2007 August 24. http://www.ncbi.nlm.nih.gov/pmc/articles/PMC2206487/pdf/cc6104.pdf. Retrieved 2011-01-31.
15)  Treatment of fever in the neurologic intensive care unit with a catheter-based heat exchange system. Diringer MN. Critical Care Medicine 32: 559-564, 2004.
16) Efficacy and Safety of Endovascular Cooling After Cardiac Arrest: Cohort Study and Bayesian Approach. Holzer M, Mullner M, Sterz F, Robak O, Kliegel A, Losert H, Sodeck G, Ray T, Zeiner A, Laggner AN. Stroke 37: 1792-1797, 2006.
17) Wolfrum S, Radke PW, Pischon T, Willich SN, Schunkert H, Kurowski V. Mild therapeutic hypothermia after cardiac arrest – a nationwide survey on the implementation of the ILCOR guidelines in German intensive care units. Resuscitation.2007;72(2):207-13.
18)  Cameron, JS. A History of Dialysis. Oxford University Press, September 2002, 368pp. ISBN: 0198515472.
19)  Miller, W. King of Hearts: The True Story of the Maverick Who Pioneered Open Heart Surgery. Three Rivers Press; 2nd edition (February 1, 2000), 302pp. ISBN-10: 0609807242.
20)  Eighteen-year follow-up in the Veterans Affairs Cooperative Study of Coronary Artery Bypass Surgery for stable angina. The VA Coronary Artery Bypass Surgery Cooperative Study Group. Circulation. 1992;86:121-130.
21)  Sharma GV, Deupree RH, Luchi RJ, Scott SM. Identification of unstable angina patients who have favorable outcome with medical or surgical therapy (eight-year follow-up of the Veterans Administration Cooperative Study). Am J Cardiol. 1994;74:454-458.
22) Scott SM, Deupree RH, Sharma GV, Luchi RJ. VA Study of Unstable Angina. 10-year results show duration of surgical advantage for patients with impaired ejection fraction. Circulation. 1994;90:II120-II123.
23)  Sharma GV, Deupree RH, Luchi RJ, Scott SM. Identification of unstable angina patients who have favorable outcome with medical or surgical therapy (eight-year follow-up of the Veterans Administration Cooperative Study). Am J Cardiol. 1994;74:454-458.
24) Scott SM, Deupree RH, Sharma GV, Luchi RJ. VA Study of Unstable Angina. 10-year results show duration of surgical advantage for patients with impaired ejection fraction. Circulation. 1994;90:II120-II123.
25)  Knipp SC, Matatko N, Wilhelm H, Schlamann M, Thielmann M, Lösch C, Diener HC, Jakob H. "Cognitive outcomes three years after coronary artery bypass surgery: relation to diffusion-weighted magnetic resonance imaging." Ann Thorac Surg. 2008 Mar;85(3):872-9.
---
---