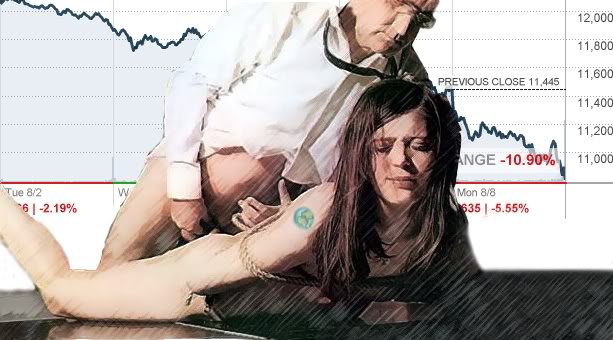 By Mike Darwin
Have I got your attention now?
Good.
Most people say my writing here is far too long and not nearly to the point. Today I'll remedy that. [Though you'll still have to read this http://wp.me/p1sGcr-1h for what I going to say here to have much credibility. Read, read it carefully, and note when the contents were first published on-line.]
A couple of readers have also noted that I "seem to be in a hurry" with whatever my agenda is. Today, in part, I'll explain why.
Over the past few days the true state of the global economy has started to be unveiled. It is going to get a lot worse. I'm no prophet or seer; would that I were. Because then, I could quantify it all for you and spoil the ending by telling you how it's going to turn out; for you, for me, and for everyone else on the planet. But the truth is, I have no crystal ball and no metaphysical "inside track" on the future. I had hoped, fervently, that I might have some more time, that we might have some more time – perhaps as much as a year or two, before this global economic decompensation occurred. Well, no such luck. What is happening now is the beginning of what is going to be a very bad time. I have been back and forth over the skin of this earth these past 6 years, and I can tell you that much of the world has been precariously balanced on a knife's edge of instability, fear, hopelessness and simmering rage for onto to a decade, now.
When the French Revolution arrived, Louis VI and Marie Antoinette could hardly have been more surprised. Hosni Mubarak, lying in his hospital bed in a cage Cairo, must certainly feel a similar sense of disbelief and disorientation. To be plucked from his villa at Sharm el Sheik, after he surrendered the Presidency? Incredible! The difficulty for many of you reading this (in the Developed World) is that you have lived like Louis, Marie and Hosni for the last few decades – completely out of touch with that segment of the world deemed both untouchable and insignificant. It's not that you've actively avoided them, but rather than you could not even see them, and if you did catch a glimpse of them from time to time, out of the corner of your eye, you not only had no opportunity for discourse with them – you lacked the language – you literally lacked the language – both symbolic and visceral – to communicate. You might more easily have communed with an ant, or an apple tree.
Now, regrettably, many of you are about to join them. Do not worry about any lack of knowledge of their linguistics. The lingua franca of fear and disenfranchisement is one that all but the Doctor Panglosses, and the Wickens Micawbers of the world, learn with astonishing speed. Chances are, you will too.
I don't know how much 'play' there is left in the system. That means I don't know when the futile and irrational wars the West is currently prosecuting will be replaced with much larger, more costly and absolutely essential conflicts. It means I don't know exactly when healthcare expenditures are going to decrease from 17.6% of the GDP, to somewhere in the single digits (and all the grim statistics that implies). It also means I can't tell you exactly when the currency is going to start really inflating – in part, because I don't know to what extent deflation from lack of demand for major commodities will occur – or when – although I note that oil prices have already dropped.
I am an expert, a bona fide expert at watching things die and observing, in order to understand the mechanics of that process, even to the point where it has proceeded well into decomposition. Human and non-human, I've observed so many deaths I long ago lost count. This has made me wise enough to 'know it when I see it,' and wiser still, to know that I lack the tools to bring precision to my understanding of the process. I can tell you when it is underway, but I cannot tell you the appointed minute, the appointed hour, or even the appointed week, month, or year of its arrival.
I said I'd keep this bearably short, and I will. We've been fucked. It happened quite some time ago, but in the daze of the booze and drugs, we simply didn't feel it – until now. My message, here and now, is to first be aware that this has happened. You have no time for denial, or for recriminations. Second, neither panic nor abandon hope in the months to come. Third, immediately stop all non-essential expenditures and save everything you can. When you need to convert those savings into non-cash commodities, of one kind or another, will become apparent in due time. If you have modest and manageable debt, pay it off. If you have large debt, begin to position yourself to walk away from it with as little injury to your assets and psyche as possible. Much of the work of doing this in the US is psychological. In other places, more material preparations will likely be required. Finally, if you are a cryonicist and you want to continue to be one, be prepared to relocate. It is very likely that cryonics (biopreservation) is going to require the support of an active, cohesive and geographically united community.
I am sorry for this message. I hoped to have far more time to sieve a working group of good minds, with good hearts, to confront what is now upon us. No such luck.