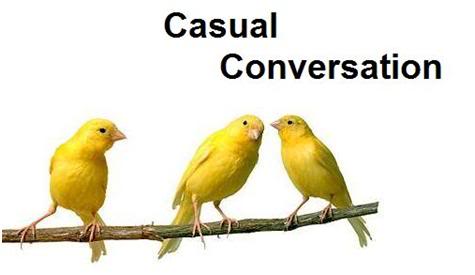 "We don't receive wisdom; we must discover it for ourselves after a journey that no one can take for us or spare us."
- Marcel Proust
By Mike Darwin
A Digital Ark
A couple of years ago I did a "document dump" of scanned/digitized cryonics historical materials to the CryoEuro Wiki, which is  hosted and maintained by Eugen Leitl (http://cryoeuro.eu:8080/pages/viewpageattachments.action?pageId=425990&startIndex=0). I've been scanning the cryonics historical material in my possession for about 4 years now.  It is slow going and the results are often less than gratifying. I have 3 flatbed scanners at my disposal – two of which have been made ancient by the so far relentless march of Moore's law. Still, they allow me the luxury of improving my efficiency a bit; while one scanner is arduously capturing a page and writing it to the hard drive, I can proceed to scan another page on another scanner.
I labor under such constraints because apparently (with the exception of Dr. Mike Perry) no one else gives a damn whether these resources survive or perish. Cynical words, I know, but also words that are true.
Why should anyone care? The past is the past and the science and technology of cryonics have moved on. The social, economic and political milieu that cryonics struggles in today is also greatly changed; perhaps so much so it might be argued, that the past is of relevance only as a curiosity, or as resource for future academics and historians of cryonics to use in writing learned dissertations and advancing peculiar theories about why things happened as they did, or turned out in the way they will? From my compromised vantage point (as a player in these events) it is hard for me to tell. My gut feeling is that the near complete absence of interest in this material, and in the historical epoch it chronicles, is a sign that something is wrong in cryonics. Or, maybe more accurately and promisingly, that something is simply missing at the moment.
Figure 1: The build up and collapse of sand piles exhibit the property of surface fractals – also called cellular automata. The spikes (green) in the graph at the right of the illustration above show the ups and down of the sand pile's height over time. The inset (blue) graph shows the Dow Jones Industrial Average during January of 2009. The similarity in the pattern of activity between the DJIA and the behavior of sand piles is almost certainly not a coincidence.
I think that most who seriously study the history of cryonics will conclude that there appear to be cycles of activism and interest. There is nothing remarkable in this: the same is true in almost any area of human undertaking, and of human history in general: peace-war, peace-war, boom-bust, boom-bust… Dribble grains of sand onto a sand pile and you'll see a similar (if not identical) phenomenon. In fact, it seems to be a fundamental property of living systems. Physicists Per Bak, Chao Tang and Kurt Wiesenfeld noted that as grains of sand are randomly added to a sand pile and it experiences build ups and collapses, this behavior exhibits the property of surface fractals – also called cellular automata, with the "avalances" obeying the Eden Growth Model (Figure 1). This is the same rule that underlies the growth of bacterial colonies on an agar plate. In short, there is nothing mysterious about it. The overall pattern of build up and collapse over time looks much like like the Dow Jones Industrial Average over the period of a month or so (see blue insert graph in Figure 1). So goes sand piles, so goes cryonics and so goes the world.
Sand Piles & Soothsayers?
The Bak–Tang–Wiesenfeld sand pile model is lovely to know about, but it won't help you pick a high performing stock, or even tell you what the market will do – beyond the fact that it will most likely exhibit behavior similar to that seen Figure 1 – except every great (and equally unpredictable) once in awhile, when it will behave very, very differently (so-called Black Swan events).  Again, this is nice to know, but it is of little practical utility to the day trader, or the casual investor. And therein lies the rub – because we cryonicists are ostensibly in it for the long haul. And that's where the history of cryonics becomes potentially very useful.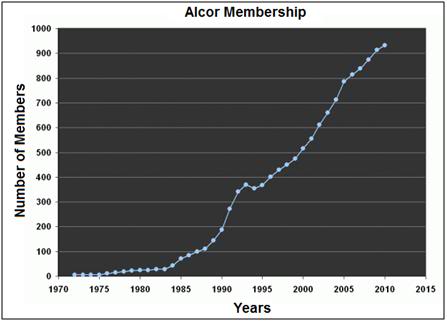 Figure 2: Alcor membership from 1972 to 2010. What can be learned from a careful analysis of these data? Is there a discernible reason(s) why growth in membership became nearly exponential, briefly, during the early 1980s?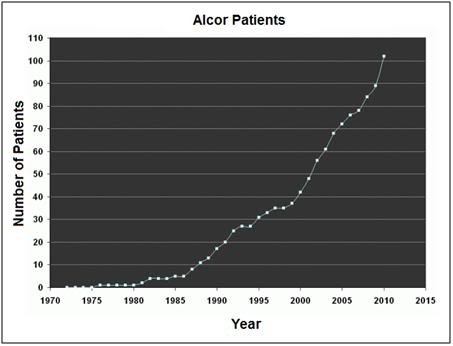 Figure 3: The Alcor patient population from 1975 to 2010.
At the most basic level, it allows us to see what the pattern of activity has historically been like in cryonics. That does not necessarily mean that it will continue in the same way. However, there is now nearly 50 years of cryonics history. That's a substantial baseline, and if you chart the progress of cryonics over that time by almost any measure, and you look at the primary historical record, you'll immediately notice that in no way has cryonics behaved as it was predicted to do by the first generation of cryonicists (or for that matter, by any subsequent generation). There was no widespread "revolutionary" adoption of the idea, and if Alcor membership and patient statistics are examined, it is immediately apparent that growth was not only not logarithmic, it has been (mostly) linear (Figures 2 & 3). The Google N-gram for the frequency with which the word cryonics appears in published books (English language) similarly shows a lack of logarithmic growth (Figure 4).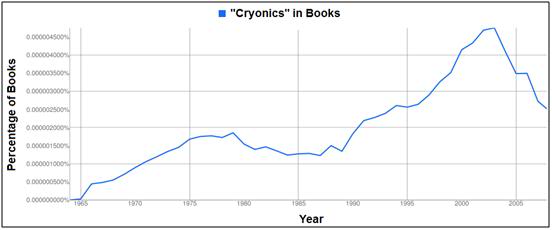 Figure 4: Google N-gram for the frequency with which the word "cryonics" appears in books published in the English language from 1964 to 2010.  Does the shape of this curve reliably correlate with historical events in cryonics?
Beyond these basic observations, if we want to understand if there are any reasons for "bad" or "good" intervals on these, or other indices of how cryonics has performed over time, we will necessarily have to have recourse to history. Did anything happen of historical note to jump start Alcor's growth in the 1980s? If so, what was it, and can anything be learned from examining the historical record in detail that might prove useful in assisting the growth of Alcor, and more generally the growth of cryonics, today? Do the pauses in growth and the occasional downturns that are in evidence to varying degrees in all of these charts mean anything? If so, are there lessons for us? What strategies were suggested (and tried) in the past, and did they work? Are the same kinds of errors being made now that were made a decade ago, or even 40 years ago? What kind of people, with what kinds of skills were responsible for growth spurts or paradigm shifts within cryonics? Indeed, what were the paradigm shifts, and did they matter?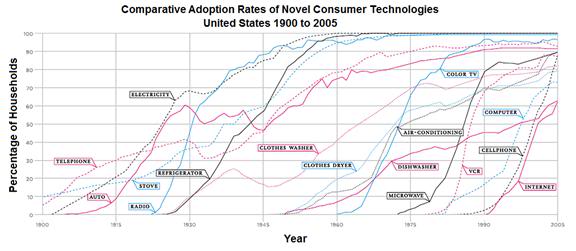 Figure 5: The rates at which novel consumer technologies were adopted in the United States.
More generally, can we look to the 'adoption curves' of other technologies and draw any useful conclusions for cryonics? If nothing else, a quick glance at Figure 5 shows the profound delaying effect that the economic havoc of the 1929 stock market crash followed by the Great Depression and World War II had on some, but not all technologies. Are there implications for cryonics in such metrics both now, and in the future?
I don't know the answers to these questions with certainty. But I do know, from experience, that carefully studying what worked and what didn't, and paying close attention to membership and patient growth curves (not just in Alcor, but in cryonics as a whole) was essential to the success that Alcor enjoyed from ~ 1981 to ~ 1990. These data were critical in shaping the decisions that I and others made during that interval.[1] As George Santayana famously said, "Those who cannot remember the past are condemned to repeat it."
Leaving aside the practical utility of the historical record of cryonics, I believe it is both fascinating and rewarding to peruse. It is also part of our duty as cryonicists to be aware of our history and to hold gratitude for, and give credit to those who worked to create it. Imagine waking up one day to find that all but the barest memory of your past had vanished? You know your name, where you work, perhaps where you were born, most of the things you need to get through the day; but nothing of where you came from, or what your experiences were 5 years ago, let alone 10, 15 or 20 years previously. Aside from the fact that much in your life and your experience would be puzzling and frustrating, there would also be the reality that you would have a suffered a terrible loss. The tapestry of our lives – the events, experiences and memories we hold as individuals, constitute the anchoring core of our being. Without them, we become shallow and lost. The same is true of institutional, scientific and academic disciplines. It is possible to participate in these disciplines without knowledge of their history; but only as a yeoman or a technician – as cog in the wheel.
The Corpus
The idea was to organize the material now residing on CryoEuro in such a way that it would be easily accessible. Materials would be grouped by type, by time and by the organizations that produced them.They were to have had brief, objective introductions explaining what they are and how they relate to others items in the archive. Alas, several years have passed, and this seems unlikely to happen anytime soon. While I doubt there are many (if any) others currently active in cryonics who will find this material of either great interest or great use, I can't know that for sure, and what's more, this effort is an investment in the future of cryonics. It may lie fallow for some time, but the fact that the data are there is important, and its wider dissemination should not be delayed further.
Since the materials are not currently cataloged or organized in any way, I thought it would be a good idea to at least provide the barest overview of the documents that are there, along with URLs that will allow the curious to sample them.
There is a good deal of the literature of the first cryonics organizations, as well as significant media coverage from the period. Science fiction writer Fred Pohl's 1964 Playboy magazine is there:
http://cryoeuro.eu:8080/download/attachments/425990/IntimationsofImmortality_Playboy_Jun1964.pdf
as well as the Paris Match article (if you read French) detailing Dr. James Bedford's cryopreservation:
http://cryoeuro.eu:8080/download/attachments/425990/BedfordParisMatch4March1967.pdf
The Paris Match article is almost a direct translation of the famous LIFE magazine article which was scuttled when astronauts Grissom, Chaffee and White were incinerated in an oxygen fire in Apollo 1.
There is low-end tabloid-style coverage of cryonics from 1968, such as the True men's magazine article about Steven Mandel's cryopreservation:
http://cryoeuro.eu:8080/download/attachments/425990/ScienceonVeergeofConqueringDeath_True+Magazine_+1968.pdf
Critical commentary from influential thinks of the time, such as Isaac Asimov is also present:
http://cryoeuro.eu:8080/download/attachments/425990/SeeYouintheHereafter_+Penthouse_1971.pdf
as are later, more cynical articles, such as the 1978 Playboy piece, "Frozen Guys":
http://cryoeuro.eu:8080/download/attachments/425990/Frozen_Guys_Playboy%2C_August_1978.pdf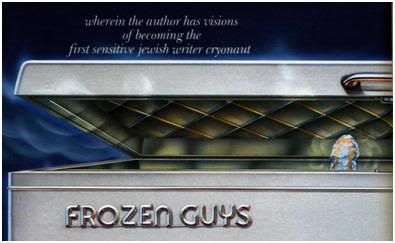 There are also articles from the late 1980s documenting the Dora Kent incident, though the record as represented here is far from complete:
http://cryoeuro.eu:8080/download/attachments/425990/Freezing+Heads%2CNew+York+Newsday+Sunday+Magazine%2C+31+January%2C+1988.pdf
Most of the first (still extant) newsletters of the Cryonics Society of New York (CSNY) are present starting in 1966 and going forward until Immortality, the successor magazine to the original Cryonics Reports ceased publication :
http://cryoeuro.eu:8080/download/attachments/425990/Cryonics+Reports+2%289%29+1967.pdf
http://cryoeuro.eu:8080/download/attachments/425990/CryonicsReports3%2810%291968.pdf
http://cryoeuro.eu:8080/download/attachments/425990/Cryonics+Reports+2%285%29+1967.pdf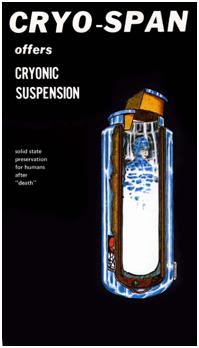 Promotional material from the early days of cryonics, such as the full color Cryo-Span brochure have been carefully scanned and restored:
http://cryoeuro.eu:8080/download/attachments/425990/CryoSpanBrochure.pdf
The full proceedings of the First Annual National Cryonics Conference which was held in 1968 is also available:
http://cryoeuro.eu:8080/download/attachments/425990/Proc1stAnn+Cryo+ConfNYC1968.pdf
Isamu Suda's Nature article documenting his claim that cat brains can recover EEG activity after days of frozen storage at -20oC was used by CSNY (and all succeeding cryonics organizations) as a promotional tool, and a copy of that article, as distributed by CSNY is present:
http://cryoeuro.eu:8080/download/attachments/425990/SudaNature1966.pdf
I believe that all of the issues of the Chamberlain's extraordinary effort, Manrise Technical Review, are presented and accounted for. A sampling is here:
http://cryoeuro.eu:8080/download/attachments/425990/ManriseTechRev1%281%291971.pdf
http://cryoeuro.eu:8080/download/attachments/425990/ManriseTechRev3%281%291973+.pdf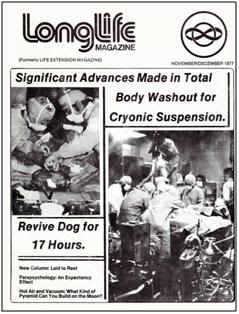 With the exception of the last 2 issues, all of Life Extension, later to become Long Life magazine has been scanned. Yes, that's right; there was both a Life Extension, and a Long Life magazine long before the current efforts by the Life Extension Foundation and the Cryonics Institute:
http://cryoeuro.eu:8080/download/attachments/425990/Life+Extension+Magazine%2C+1%281%291977001.pdf
http://cryoeuro.eu:8080/download/attachments/425990/LongLifeMag2%285%2910_1979.pdf
A few issues of the  complete Cryonics (1980s) magazine (with illustrations) have been scanned.
http://cryoeuro.eu:8080/download/attachments/425990/CryonicsMagJune9%286%291988.pdf
http://cryoeuro.eu:8080/download/attachments/425990/CryonicsMagJune9%286%291988.pdf
Since I was informed that Alcor will shortly be scanning and uploading these issues of Cryonics to their website library, I have not proceeded further with this arduous task. [Because I am using a flatbed scanner which will not accommodate 8.5" x 14" images, each issue of Cryonics that I scan must be completely disassembled – aligning the pages is also an onerous task.]
The original, professionally published (color cover) of Cryonics: Reaching for Tomorrow is present, as well as this prototypical 1989 version:
http://cryoeuro.eu:8080/download/attachments/425990/AlcorReachingForTomorrow1989.pdf
There are also a fair number of scientific journal articles relating to cryobiology, cardiopulmonary resuscitation, cerebral resuscitation, cerebral ischemia and liquid ventilation, which are likely to be of interest only to researchers working in these areas. One classic paper which deserves mention is the original work of Ames, et al., documenting the no-reflow in the brain after cardiac arrest[2]:
http://cryoeuro.eu:8080/download/attachments/425990/amesnoreflowii1968.pdf
Considerations Past, Present & Future
There is a staggering amount of material still in need of scanning – literally thousands of pages. I've tried to digitize the documents that seemed most historically relevant; but that is my subjective judgment and it is no doubt deeply flawed.
There will be accidentally omitted pages and other errors in these documents. These are mostly raw, unedited scans. There was no one to proof my work when I first undertook it, and that is still the case today. I apologize for errors or omissions but also want to be note that I did the best job I could, given my personal and technical limitations.
In many instances, documents which still remain to be scanned, exist as the only copy. This is a dangerous situation: several years ago the plastic sprinkler pipe in our home froze while we were away, inundating the whole house with countless gallons of water. Some of the archival material (fortunately a very small fraction) were damaged, and some (a few items) were completely destroyed.  The bulk of the archive was saved because it was stored in closets that were largely inaccessible to the 3-day long downpour from the ceiling. Since then, the materials have been repacked in covered plastic bins. Whilst this makes ready access very difficult and time consuming, it was a necessary tradeoff.
Dr. Mike Perry is similarly slowly laboring to digitize the cache of material he has accumulated. Sadly, a significant fraction of the CSNY archive was sent off to Underground Vaults and Storage in Kansas, and I've long since given up hope of seeing it again anytime soon (the cost of retrieval is ~$2,000). Mike has digitized all of Ev Cooper's Life Extension Society newsletters Freeze-Wait-Reanimate as well as the all of the Cryonics Society of Michigan (now the Immortalist Society/Cryonics Institute) newsletters The Outlook and The Immortalist. Hopefully these will be available on-line soon, as well.
I will add to this archive as I can and I would encourage others to do so as well. If you have media articles, literature, correspondence, photos or items you think might be of historical import to cryonics, please contact either Eugen Leitl (eleitl@gmail.com) or me.
Footnotes
[1] I was President of Alcor from 1982 to 1988 and a critical force in management until shortly before my departure in 1992.
[2] After ~ 6 minutes of cardiac arrest it becomes difficult bordering on impossible to restore blood flow to the brain under normal clinical conditions. Even now, over 30 years later, the mechanisms which underlie the no-reflow phenomenon are not fully understood.