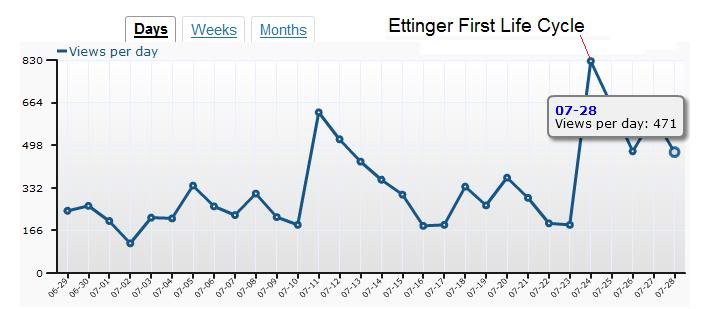 Figure 1: Chronosphere performance data from 29 June through 28 Jul, 2011. The large bump up in views on 07-29-2011 represents the effect of the posting of Robert Ettinger's passing into cryopreservation and the impact from targeted mailings of a media kit to ~ 100 major media outlets around the world.
By Mike Darwin
Introduction
One of the most valuable things I learned from cryonics is just how long and how hard a business it is to build an organization. Or even to build a base of readers and subscribers if you are in the business of producing a newsletter, a magazine, or yes, even a blog. Above are the stats for Chronosphere from 29 June through 28 July of this year (stats for the year to date are present in Figure 5, below).
I'm doing this update much sooner than I planned, because I wanted to show, objectively, the power of a single well planned and well timed intervention on "public" awareness and on readership. Public is in quotes because it is misnomer; the people who've come here and who will stay here as readers are a unique and highly distilled fraction of the public. Aside from the fact that they can read, and do so at a high level, they know how to use the web and they are at least intellectually curious enough to have come to light here. Most importantly, some subset of these people are nascent or actual cryonicists/immortalists.
The Worst Press Release in Cryonics History?
It is common practice and prudent public relations management to have media kits prepared and ready to go for any unexpected contingency. A representative media kit is shown in Figure 2, below, and contains detailed information on every aspect of the organization's operations and public programs, as well as resource information and the best examples of prior media coverage. Such a press kit will also have "supplied images" that the media can use, as well as documentary (and if available, interactive) CDs or DVDs which tell the organization's story in a tight, coherent way. In the case of cryonics, at a minimum this would mean lay and technical white papers on the issues of cryo-injury and the repair of freezing or vitrification damage, detailed written and visual guides to how cryopreservation is carried out, scientific papers, scientists' statements and other third-party data supporting the feasibility of cryonics, promotional literature, samples of any magazines or newsletters, and finally, a specific press release, as appropriate. It is also appropriate to have a separate, concise document that deals with common misconceptions and which provides a credible answer to basic and often asked questions, such as how much cryonics costs, who will revive cryonics patients, how will patients adjust to life after being displaced into the future by decades, or even centuries, and so on.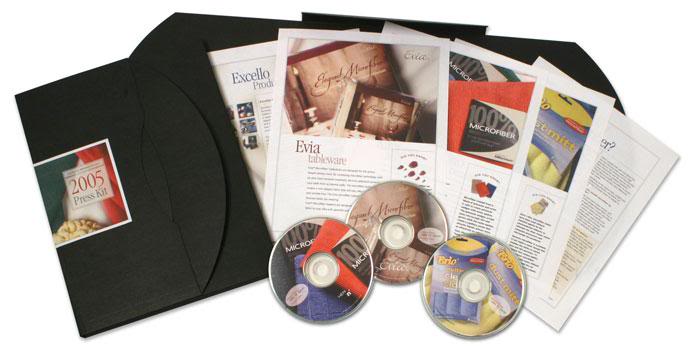 Figure 2: A typical media kit for a technology-oriented enterprise.
Such press kits were generated in cryonics as early as the late 1960s(obviously, minus CDs or DVDs) and Alcor at one time maintained an extensive press kit that was kept in stock at all times through till at least 1991. Below (Figure 3) is the press release sent out by the Cryonics Institute on 25 July, two days after Robert Ettinger's cryopreservation began. It is an amazing document, starting with title, and it becomes even more surprising from there.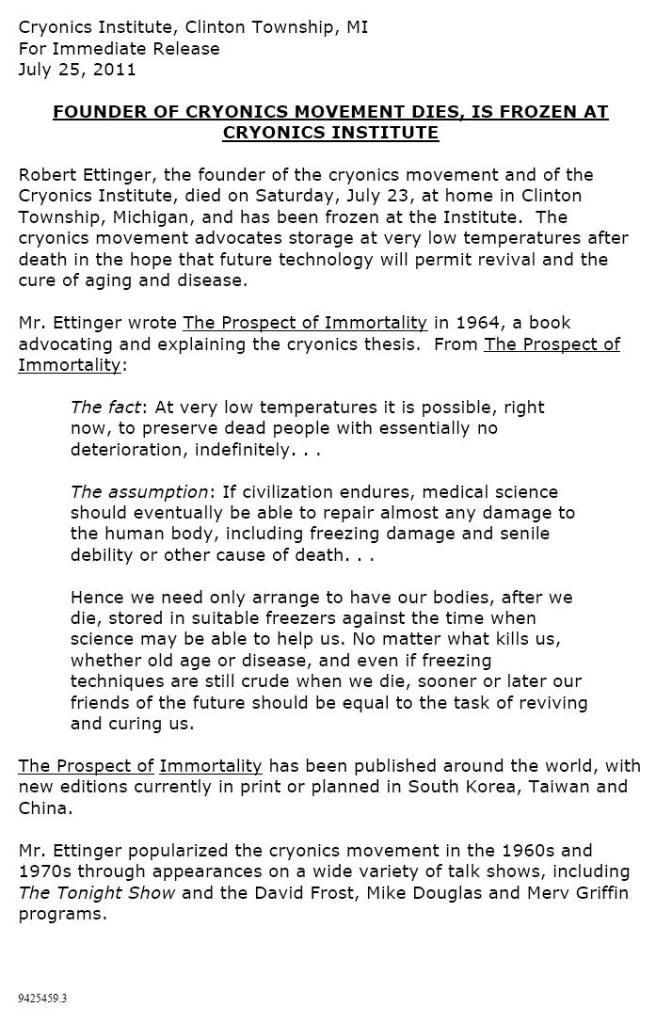 Figure 3: Press release from the Cryonics Institute (CI) announcing that the father of cryonics, Robert C. W. Ettinger was pronounced medico-legally dead on 23 July and cryopreserved by CI in Michigan.
The first thing we learn from the press release is that Robert Ettinger was frozen. Is this true? Was he vitrified-frozen or simply frozen? Was he cryoprotected or straight frozen? Depending upon the realities, this document either represents enormous hubris, or enormous ignorance, because whatever else happened to Bob Ettinger on 23 July, being dead was not on the menu – not yet, anyway – and some of the media headlines got that right! After over 20 years of effort to remove cryonics and cryonics patients from the realm of death and the dead, the father of the cryonics movement gets "frozen" after he is "dead," and this happens not in 1967, but in 2011. Incredible!
Early on in the classic 1974 Mel Brooks film, "Young Frankenstein, " as Dr. "Fronkensteen" is concluding a lecture to a group of medical students, an unctuous-obnoxious student hurls leading question after leading question at the good doctor, finally concluding with: "But as a Fronkensteen, aren't you the least bit curious about it? Doesn't bringing back to life what was once dead hold any intrigue to you?" That was too much. Young Frankenstein, yells out, "You are talking about the nonsensical ravings of a lunatic mind! Dead is dead!"
Of course, Dr. Fronkensteen is right, dead is dead, and everyone who isn't a lunatic knows that. The dictionary definition of death is: "the end of life; the total and permanent cessation of all the vital functions of an organism." That's a good definition of death and it most certainly does not reflect the current state of Robert Ettinger.
The medical physicist and cryonics activist Dr. Brian Wowk was the first point this out in his 1988 essay, "The Death of Death in Cryonics," I can also justifiably speak to this issue myself, since I am a peer-reviewed, medical journal published, 'expert' in this area, see the article "Pro-Con Ethics Debate: When is Dead Really Dead?" The use of this terminology by a cryonics organization, after so much reparative work and effort, is shocking. In fact, I would go so far as to say that the CI press release is a step back from the press release announcing Dr. Bedford's cryopreservation, which was sent out on 14 January, 1967; 44 years ago (see Figure 4, below)!

Figure 4: The January, 1967 press release announcing the cryopreservation of Dr. James H. Bed-ford was more detailed, more hopeful and more informative by far than the CI press release announcing the cryopreservation of Robert Ettinger on 23 July, 2011.
To appreciate the degree of dysfunctionality in contemporary cryonics with regard  to public relations, it is probably necessary to go back in time to 1990, when Dr. Thomas K. Donaldson unsuccessfully sued the Attorney General of the State of California for the right to an elective cryopreservation in order to prevent the destruction of his brain by a malignant brain tumor. Much of the media coverage surrounding the Donaldson lawsuit was neutral to slightly sympathetic. And a disproportionate amount of the "supposed" public reaction was sympathetic, or asked questions in a positively loaded way. This was the case because there was a coordinated letter writing effort. Not only did many Alcor members  write letters themselves, many hundreds of hand written, typed and computer-typed (daisy wheel generated) letters also went out in packages from Alcor in Riverside, to re-mailers, who then re-posted them to local papers, TV stations, and the like, so that they would have local postmarks, and thus  and local credibility. This is how it is done in the real world of public relations.
Whether you approve of that kind of approach in public relations is neither here nor there in the context of how cryonics is being publicly handled today. Things have gotten so bad that the cryonics organizations themselves don't know whether their patient's are dead, alive, in suspended animation, or in a fourth, and far less certain state called cryopreservation.  That last state is the one the public most needs to be educated about, and it is ostensibly the job of the cryonics organizations to do it. This press release appears to have be written by David Ettinge, and one is tempted to shout out the question:
"But as an Ettinger, aren't you the least bit curious about it? Doesn't bringing back to life what was once dead pose any contradictions for you?"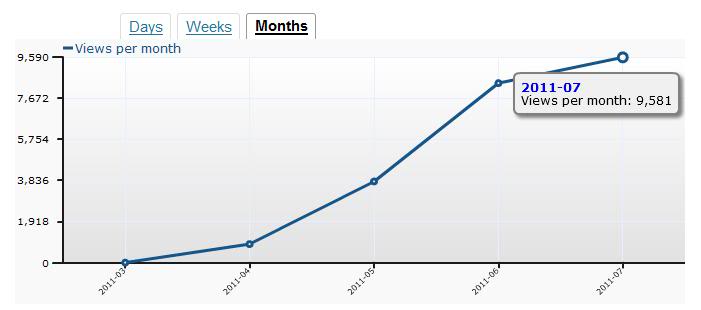 Figure 5: The number of views Chronosphere receives per month has been increasing steadily since its launch, and will likely reach or exceed 10K per month, by the end of July, 2011.
I do not know what the traffic is like on the various cryonics organization websites, and my inquiries for this data have gone unanswered in the past. Judging from the average number of hits per month Chronosphere is now receiving, my guess would be that for Alcor and CI, that number is orders of magnitude greater.
We have a lot of work to do.