by Mike Darwin
Michael B. Federowicz and Ella A. Rorhman circa 1954
Yesterday, I learned my parents, both of them, had died a little over 4 months ago. The call came from a staffer at the Alcor Life Extension Foundation. Alcor had been contacted by the attorney handing probate for my parents' estate. My parents had died within a day of each other. My mother passed on 1 November, my father on 2 November of 2011.
It was not unexpected news. My mother had developed Alzheimer's disease some years ago and had been frankly demented for the past several years – unable to recognize me or hold meaningful conversations for the past two years. About 8 months ago, my father, 90 years old, informed me, during one of our increasingly infrequent and unpleasant phone calls, that he was not going to call me when my mother died. My response was to inform him that I had no plans for further phone calls to him. It was the end of what had been a sharply deteriorating relationship since my mother's illness eliminated her role as a buffer between us – a role I had not even understood existed, let alone previously appreciated was necessary.
I had no bad blood with my few other remaining relatives in Indiana, but they apparently chose not to notify me, either. To be fair, I found it difficult to communicate with them  and I'm sure the same was true for them. Neither of our phones or mailboxes were often, dare I say ever, burdened with communications.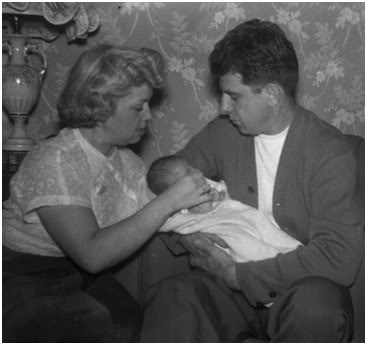 Mike Darwin and his parents, April, 1955
My parents lived long, happy and productive lives. They gave me a great childhood, free of cares and worries, and afforded me every opportunity for education, knowledge and personal growth. My youth was a time of warmth and loving security. My parents worked hard, earned and enjoyed financial security, and enjoyed a long and happy retirement; free from worry or want. Their "golden years" were spent in remarkably good health. My father, despite being a 3-pack a day smoker since age 13, was lucky to escape with only an aortic replacement, a carotid endarterectomy and a coronary angioplasty, all of which he made rapid and astonishingly complete recoveries from. Aside from a few months of morbidity associated with these illnesses, his retirement years were active and free from any significant cognitive impairment. My mother also remained active and cognitively functional into her late 80s. Both my parents enjoyed active social lives diminished only by the relentless and ever accelerating loss of dear friends, most of whom they had the good (or mis-) fortune to outlive, depending upon your point of view. By the time they reached their mid-80s, they had outlived almost all of their cohorts. This took an especially heavy toll on my mother, who defined herself to a far greater extent than did my father, through her social relationships and through her shared memories with her girlhood friends.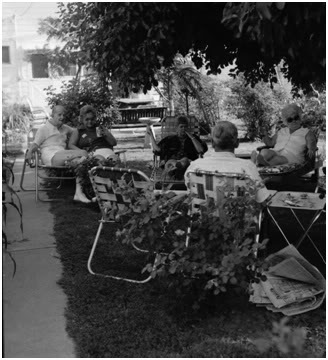 One of the many backyard social gatherings with friends and neighbors my parents held. My mothers is the lady in the big sunglasses. Photo is circa mid-to early 1970s.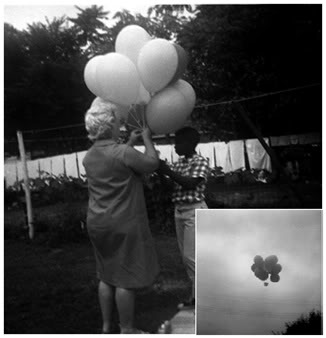 My Mother and my good grade school friend, Hubert Holman, preparing a package containing a red eared slider turtle for launch into the upper atmosphere, circa 1968.
How many parents would let their 13 year old kid freeze a veritable zoo of animals, or send turtles careening off into the stratosphere? And how many loving parents (and they were loving parents) would their 14 year old son go off to spend summers with a mad body freezer on Long Island, and, a scant 3 years later, run off to "freeze dead bodies" in the same place – and take a week of his senior year in high school to do so in the bargain?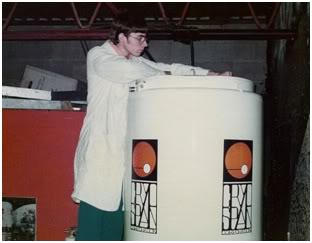 Me at the Cryonics Society of New York in the summer of 1972.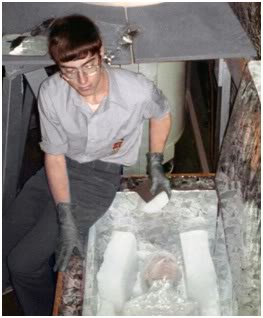 Me freezing "dead" people in 1973 at age 17.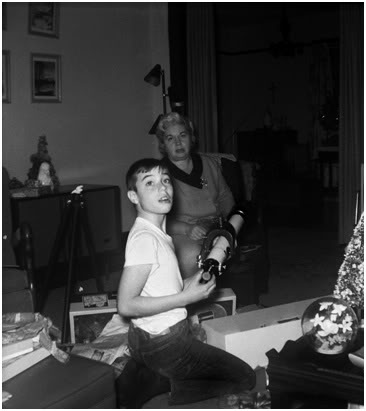 My parents gave me a great childhood. They offered me every opportunity for education and personal growth any boy could want and as only child they and I had the economic opportunity for both toys in an abundance that many children in larger families don't enjoy. I'd like to think that both they and I took full advantage of that opportunity.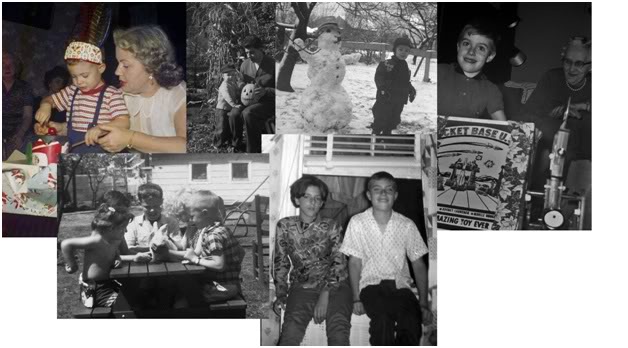 Clockwise: Christmas, 1956, Halloweenwith my dad, 1957, a von Braun rocket set with "grandma" looking on circa 1962, playing with rabbit in the early 1960s, summer in New York city in 1962. 
In looking over the hundreds of photos that now constitute almost all that is left of my parents' past, I am struck by the evidence therein, or rather lack of evidence, of my integration into their lives after the onset of puberty. This reflects the deep sense of alienation that I felt, as well the visible absence reflected in the photographic record. Not only was I was sexually alienated from the lives they were leading by the biological accident of being homosexual – I was morally and intellectually alienated, as well. For it was at this time that I realized that religion was a farce, that death was both a great evil and personally unacceptable, and that the social and moral constructs on which the civilization I was embedded in were based were, at best, a pastiche of make believe and brutal pragmatism held together with spit and sealing wax.
Thus, intellectually, I had very little attachment to my parents. And as time went on, that meant that increasingly I had less and less emotional attachment, as well. Being home with them for visits was awkward under the best of circumstances, and had been for many years. Gratitude isn't the same thing as genuine intimacy. My mother's love and longing for me – the me she remembered – was tragic and pitiful – in large measure because it could not be returned – that person had long ago ceased to exist – and there was no possibility of the easy, spontaneous interaction that been there as a child. In its place was a forced simulacrum that had to be called up mechanically.
And then, she ceased to exist – which was both terrible and terrifying.
When I spoke with the probate attorney's secretary, I was also not surprised to find that my father had replaced me as the executor and the beneficiary of the estate. My parents loathed cryonics. That is why, in no small measure, I have such high praise for them as parents for in allowing me the autonomy they did, and especially at such a young age to pursue it (cryonics). My mother, in particular, was continually nervous that I was going to "freeze her" and in fact, during her last days "semi-compos mente" whist hospitalized and gravely ill, she grasped my hand and earnestly pleaded with me, "not freeze me – or my brain!" What goes around comes around, and I had far too much love and respect for the autonomy they had shown me, so many years before, and at such a high emotional cost to themselves, to betray them in that way. They should have had no worries – and they should have known that that was the case.
My mother clearly loved me very much and she showed that in countless ways, small and large over the years, right up until she became demented. However, from the time I left Indianapolis in 1981, my parents never came to visit me in California, nor did they call me more than once or twice. When the Alcor facility opened in Riverside, I pleaded with them to come to the Grand Opening. They declined. They came to Las Vegas several times to vacation and they visited friends and family elsewhere on the West Coast – but never me. I never asked them to accept or to believe in cryonics, let alone my homosexuality. But I did ask them to accept a moment of what I considered genuine triumph in my life – the building of Alcor into a respectable place and organization that was not a seedy back-room garage operation. All they had to do was to show up – they could even have come afterwards, and just walked through the place. That rejection was incredibly wounding and, unlike my sexuality, it was not necessary and it was not rooted in religion or morality. Later, with the success of 21st Century Medicine I had another triumph, the successful recovery of dogs with no neurological deficit after 15+ minutes of complete cardiac arrest at 37°C. Again, I asked that they come. Again, they refused. That time, cryonics was not at issue. For me, that was, I think (in hindsight) the final divide between me and them, between 'us' and 'them.' It was then that I realized that symmetry. Just as I had, many years before as a boy becoming man, felt alienated from and unable to participate in their lives and in their world, so too had they been alienated from and unable to participate in mine. At last, the circle was complete. As I remarked to a dear friend later: "I'm not sure about us cryonicists and the rest of the world. Are they ants that gave birth to giants, or are we giants that gave birth to ants?" His, answer was as true as it was wise: "Both."
Over the subsequent years, and especially after the full maturation of my bipolar disorder and my breakdown in early 2003, my father became increasingly venomous about cryonics and about me, losing no chance to denigrate or deride either of us – pointing out that I was an abject failure, an impoverished "nut case" that his tax dollars were supporting; and that if my mother had anything to say about it, his money would probably keep supporting me after he was dead – and most likely even after I was dead. I suppose there is truth in what he said. But it was very wounding.
However, the ultimate truth, which I remain convinced of, is that he was wrong about cryonics. Certainly, he was wrong about his money supporting me, either after his death, or mine.That was a simple matter his own actions quite simply, and quite righteously saw to.
The day after I got the news about my parents death, Dr. Brian Wowk kindly offered his condolences and in so doing he used the term "disinherited." That shocked me, because I in no way feel (or felt) disinherited. This so because I never considered my parents' money mine. I told them this often, and for many, many years when they were alive. Starting from when I was a teenager, actually.  I didn't earn that money – they did. I told them to spend it on themselves. And as they lived into old age in good health, I cautioned them to save for "spend down" and for the quality nursing home and assisted living care they would very likely need. As it was, they both had and were able to pay for very good nursing home and assisted living care until the day they died. I never wanted nor expected their money. So, I suffered no hurt at all about being "disinherited." If my father wanted the money to go elsewhere, then I'm happy he was able to see, or at least know, it would do so.
One of the things my parents had no way of knowing I would learn  as a teenager banging around the Cryonics Society of New York (CSNY),was the utter contempt I would learn for inheritance – for the very concept of it – and for its fundamental incompatibility with a cryonicist/immortalist existence. My days as a kid at CSNY made me sick to the core at the avarice of children for the unearned money of their dead parents. Seeing that contemptible greed in action sickened me on inheritances at an early age; and nothing in my subsequent experience – right on through to fantastic grab for the wealth of Dick Jones, did anything to improve my opinion of it. I still wince every time I think of, or look at a picture of Clara Dostal – and that is often, since one of she and I hangs on the wall next to where I am sitting now, as I write this. Inheritance is based on the FACT of and the INEVITABILITY of death. And that fact is anathema to us. It is also based on the concept of the unearned at the expense of the lives of the others. And that concept ought to be anathema to everyone.
No, the only things that distresses me about the way my parents passing was handled were that I wasn't told about their deaths until four month later, and about the obituary my father prepared for submission to the local paper. I would be dishonest if I said I was not relieved about being freed from the socially expected obligations, (and the attendant  financial and psychological/emotional ones), of attending the funeral/burial. I said my goodbyes to my mom several years ago, when she was still barely oriented enough to understand. Burials and funeral Masses are rituals for them, not us. They are things for us only when we fail. When they are things of conscious choice made by others, they are unnecessary horrors, and we are under no obligation to participate.
As long as I live, I will not forget my parents, nor will I ever cease to be grateful to them. But they chose, quite consciously, to die. I respected their right to that decision and to their autonomy in making it. But it is a terrible and forever isolating thing to do. It is a thing that starts isolating and alienating years before death actually occurs, because once you accept death and decide to die, you must, inevitably, begin surrendering the struggle to stay involved with life and living, and thus to stay current and a part of the world of today.
This was something that both of them did increasingly, quite independent of their involuntary, age-associated deteriorating cognitive reserves. And that is one huge difference I'm increasingly noticing with experience between cryonicists and non-cryonicists. Even those cryonicists who are sorely neurocognitively challenged struggle mightily to stay involved with, and in love with life and the technologies that drive it. Men like Curtis Henderson and Bob Krueger come to mind. I am humbled and in awe of the nobility of their struggles, and of their courage in confronting the debilities of old age.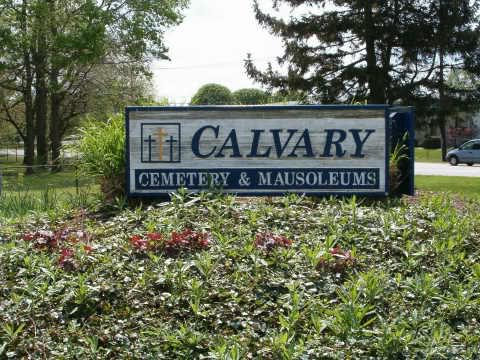 I would never call my parents cowards, but there is something terrible, small and lacking in their resignation to death and in their lack of vision. They are in a graveyard now, side by side. It is for that, and for their very conscious choice to be there, that I grieve for them.
No doubt much of the pain I am now feeling is socially programmed. Some of it is genuine sorrow at the loss of what was and what can never be again – brought to the forefront of consciousness by the reality of their deaths. Some of it is, no doubt, the realization of the loathing that my father had for me – a loathing so great that he chose not to even acknowledge me as his son in the obituary he prepared for the mortuary to submit to the local paper.
Ella and Michael Federowicz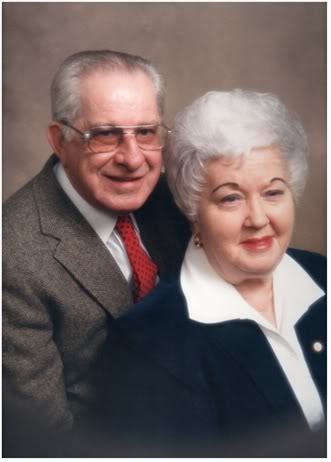 Ella A. Federowicz
Michael B. Federowicz
Ella A. Federowicz, 90, Indianapolis, passed away Tuesday November 1, 2011 and her husband Michael B. Federowicz, 90, Indianapolis, passed away Wednesday November 2, 2011. Ella was born in Indianapolis on August 6, 1921 to William and Carrie Forway Rohrman. She retired in 1981 as the supervisor of data entry from Dow Chemical after working there for 25 years. Michael was born in Brooklyn, New York on January 1, 1921 to Benjamin and Constance Jakuc Federowicz. He retired from the Indianapolis Police Department with the rank of Sergeant in 1985 after 31 years of service. Michael also served in the U.S. Army for over 10 years during WWII and the Korean War. He was a member of the Knights of Columbus Council 3660, Fraternal Order of Police Lodge 86, IPD Retired Officers and the Ernie Pyle Post VFW. Ella was preceded in death by her brothers, Virgil and Irvin Rohrman and Michael was preceded by his sister, Anna Kraska. They are survived by a sister-in-law, Janis Rohrman and several nieces and nephews.
A Mass of Christian Burial will be celebrated for Ella and Michael on Tuesday November 8, 2011 at 11 a.m. at St. Barnabas Catholic Church where they were members. Visitation will be Tuesday from 10 a.m. until 11 a.m. at the church. Burial will be in Calvary Cemetery. Online condolences may be shared at: orileyfuneralhome.com
Published in the The Indianapolis Star on November 4, 2011