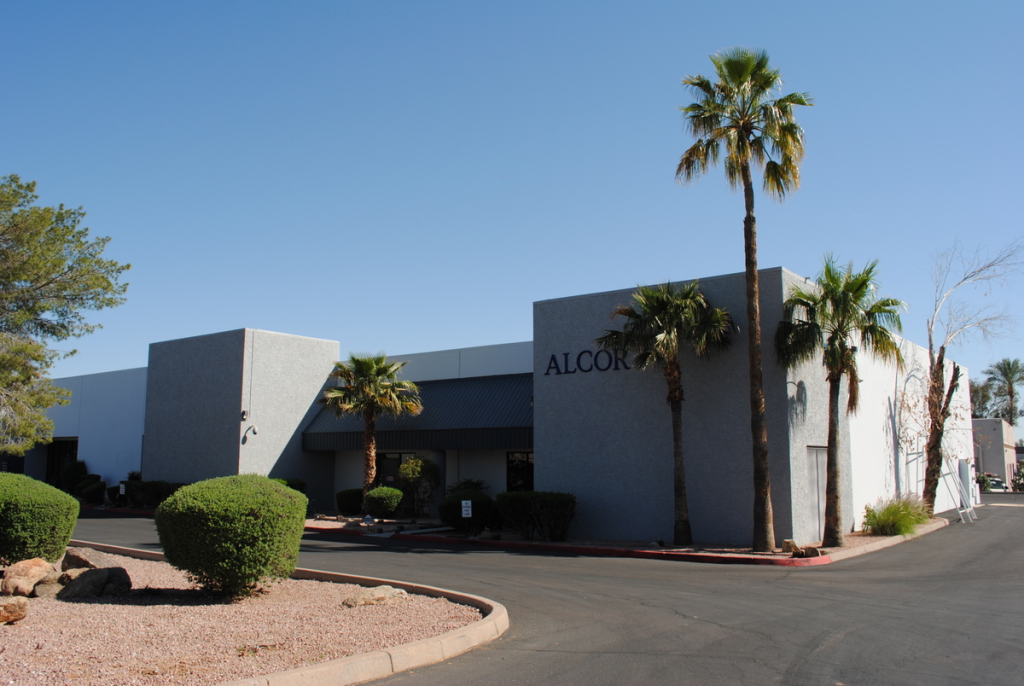 By CryoX
{This is a work of fiction  {or is it?}
Mirror mirror hanging on the wall
You don't have to tell me who's the biggest fool of all
Mirror mirror I wish you could lie to me
And bring my baby back, bring my baby back to me – m2m
My frequent flier card isn't a card at all, it's Parthenocissus tricuspidata (some would argue it' the Roman numeral IV, instead). Whatever. For me it's the magic weed that evaporates the financial distance between the coasts three or four time a year. Most of my frat buddies have their business junkets, we academics have our conferences. Alcor and Mike Darwin. Both on the West Coast, as  was my upcoming conference. Doable.
I hadn't seen Max More since my undergraduate days, which I realized were rapidly becoming, no pun intended, a chillingly long time ago. My girlfriend (at the time) and I had attended some cryo/extro/CR get-together's, and I met Max and his wife Natasha several times.  Max was this earnest, muscular, ginger, intellectual type who tried just a little too hard, was just a little too rehearsed and was more than a little too rigid. His wife Natasha? In some slightly different AU, Kurzweil has his Ramona. To me there is something artificial, slightly off and s-t-r-e-t-c-h-e-d t-a-u-t about her.  The only time I met Max without her around, I noticed a big difference in him; he was visibly insecure.
Now, Max More is President of Alcor.
I should have called to be sure Max was going to be there instead of just booking for the tour. Stupid. My flight was delayed out of LAX, and with the crazy delay from the limo, I barely made it from Sky Harbor to the Alcor building in time to meet the rest of the group. Unbelievably, the traffic in Phoenix is worse than it is in L.A.
The Alcor building is drab and unimpressive which, because of the idiodyssey of my limo driver, I really don't understand. There are two Acoma Drives in Scottsdale and the moron (or his company) driving me from the airport had no GPS. We spent half an hour cruising around the Scottsdale Air Park before I finally became desperate enough to shove my Droid in his face and demand he call someone for instructions (shame on me for not having my GPS enabled for travel). The Air Park has lots of architecturally attractive buildings – some quite stylish if you like that Frank Lloyd Desert Look. The Alcor building is Brutalist Bad; plain-ugly-anywhere.
As soon as we were admitted to the lobby/reception area, a bomb went off in my head: Natasha! I don't know if she had anything to do with it, but that was my reaction.  That kind of space is, by definition, supposed to welcome and draw you in. Instead, there is this big, cold, crystalline blob in the form of an "Infinity Mirror" almost immediately inside the door on the wall to your right, as you walk in.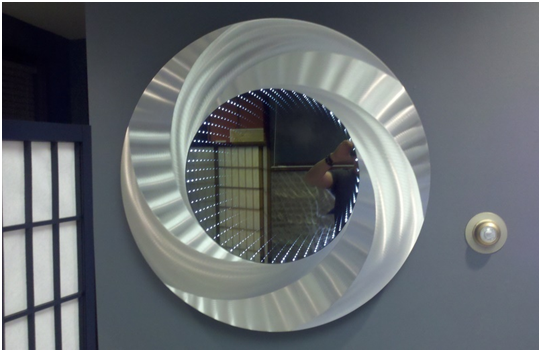 There are all kinds of problems with this. First, it causes a distraction. The visitors aren't interacting or socializing with each other, or the Alcor staffer (who should be a scantily clad voluptuous blonde). Instead, they are looking at the "pretty" on the wall, and some of them are even ape-touching it. One Merkeley woman in the group poked me in the ribs and said in an excited whisper, "Oh look into it, look into it." That was my undoing. Fun-house mirrors, looking down tall glass buildings, certain angles at the Las Vegas  strip: all provoke intense, uncontrollable vertigo and nausea. Instantly, I was an undergrad in a dorm room staring up at an empty case of Dos Equis from the floor.  In one direction was the door to the outside, which the lady who had let us in had locked with a key. In the other direction was a mass of sharp angled stainless steel and glass furniture which I could see myself impaled upon and dying in a pool of my own blood and vomit.  I was paralyzed in front of the magic mirror. All I could do was shut my eyes and think of cool sea breezes. It worked.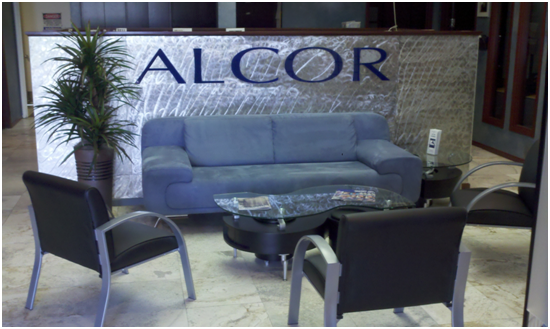 The Alcor reception area is done up in grays, icy whites and shiny metals. This is a cryonics company. Its two most obvious and predominant negative images to overcome are death and the cold.  I didn't really need the rest of the tour because even before the nausea had fully subsided, I realized that the special expertise Max had been hired to ply on Alcor was a new, high technology "preservative" skill called techsodermy, which is the cryonics equivalent for "dead" high technology companies. It was invented in the 1980s in Silicon Valley, and while I just made the analogy to cryonics, it really owes it origins more to taxidermy, because it was invented in order to fill dead tech companies with fluff in the hopes of convincing someone to buy them. (When we were waiting for our rides, the Merkeley Lady said the lobby reminded her of Benihana, and that she expected an "Oriental gentleman" with sizzling liquid nitrogen and  steak and shrimp to come out and start "chopping our meal" with a Ginzu knife at any moment. At least, she hoped it was steak and shrimp.)
My Old Man is all about money. In fact, he is money. He makes money appear and disappear. He moves money. He cleans it, he packages it, he inventories it, he "handles" it. That means that his clients are, mostly, people who rarely, if ever touch the filthy stuff. Some of them don't even want to touch the little pieces of plastic that serve as markers for it. It's an irony that the people who have the most money are the most visibly invisible of the super rich. If there is anyone reading this who knows what a Smythsons Diary is, I'd be very surprised. Perhaps a few more would know how to assess a man's station by looking at his shoes, or his writing utensil? Today, casual dress is so commonplace and so comfortable…and if you want to be somewhere reasonably economically and you have commonsense and a lot of money, you book first class and you dress sensibly and comfortably. But, if you are in the know – then you know who's who, and you don't need a ledger book to tell you.
If you want peace and privacy, then you don't travel by commercial means at all. That's for the peasants. You use Flight Centres and privates jets, and there is no security screening. And if you want a blow job or a massage, or both en route, that can be arranged for a few hundred dollars more; a small part of the cost of coach ticket the flying public pays, and that after taking off their shoes and belts and switching planes in Houston and Dallas.
The people at Alcor are clueless about how to get the customers that matter. Not just the rich and the super rich (the people my Old Man services day-in and day-out), but the "good-judgment" segment of every demographic of the population. You may be a working class stiff from Boston in a cloth coat, but you know what the genuine trappings of quality, durability and class are, regardless of the style. Warmth, wealth, style, elegance, quality; whether understated or overstated, they always come through. So does Costco warehouse gray.
My Old Man wanted me to get an M.B.A. But he wasn't altogether disappointed that instead of the usual frequent flier card I got that Mark IV. He's interested in cryonics and he thinks it has a technical and (less so) a financial chance of working. But Alcor? I may be that desperate, but unfortunately for me (and him), he's not.