I have been traveling, or here at Krell House in Northern Arizona, since 24 December of 2011, and have had virtually no access to the Internet, or to long distance telephony during that time. Additionally, communicating with the world via Chronosphere or email have been comparatively low priorities.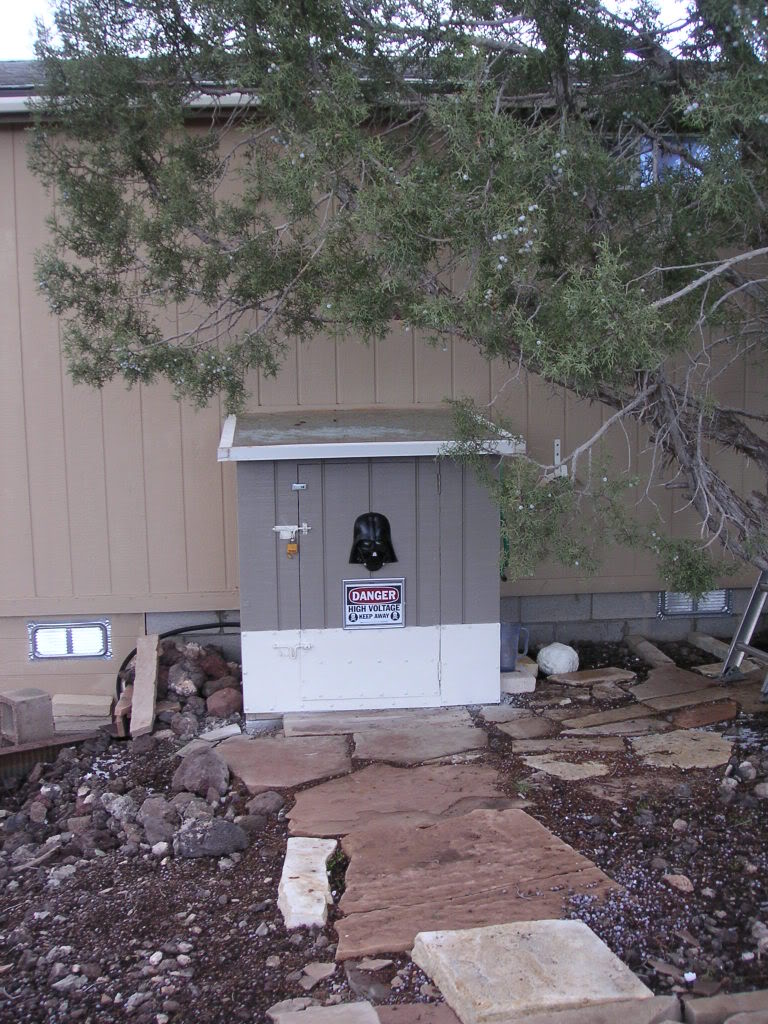 The extreme daily hysteresis in the ambient temperature and humidity in Northern Arizona rapidly degrades coatings and causes the underlying structures to fall to ruin. One example of what I am doing to defend against this is to protect high damage areas of buildings with FRP (fiberglass reinforced paneling) treated with a UV protective coating (photo above). I might also add that these conditions make the use of nails in wood construction inadvisable. Within the space of a year nails, even under painted surfaces, will be extruded ~2-3 mm from the lumber they are embedded in. After ~5 years, they may have backed out of the wood so much as  a result of the relentless daily cycles of expansion and contraction (of the wood) that they simply fall out! Screws and glues are the only way to build here.
I arrived in Arizona to find serious damage to the roof of my home, as well as a large number of deferred maintenance tasks crying out for completion.  I also discovered that the phone/internet access cable to my home, as well as the fiber optic trunk, had been accidentally attacked by a neighbor's backhoe. In fact, over 100 ft of phone cable had been uprooted from the ground and requires reburial – a task I'm attending to now.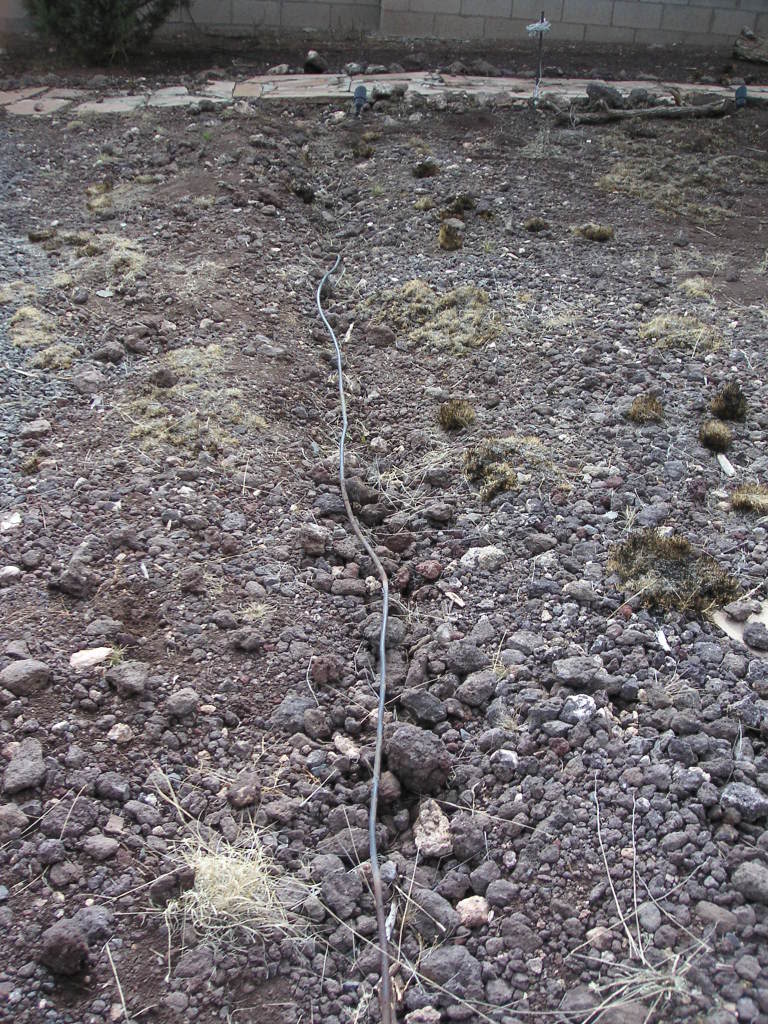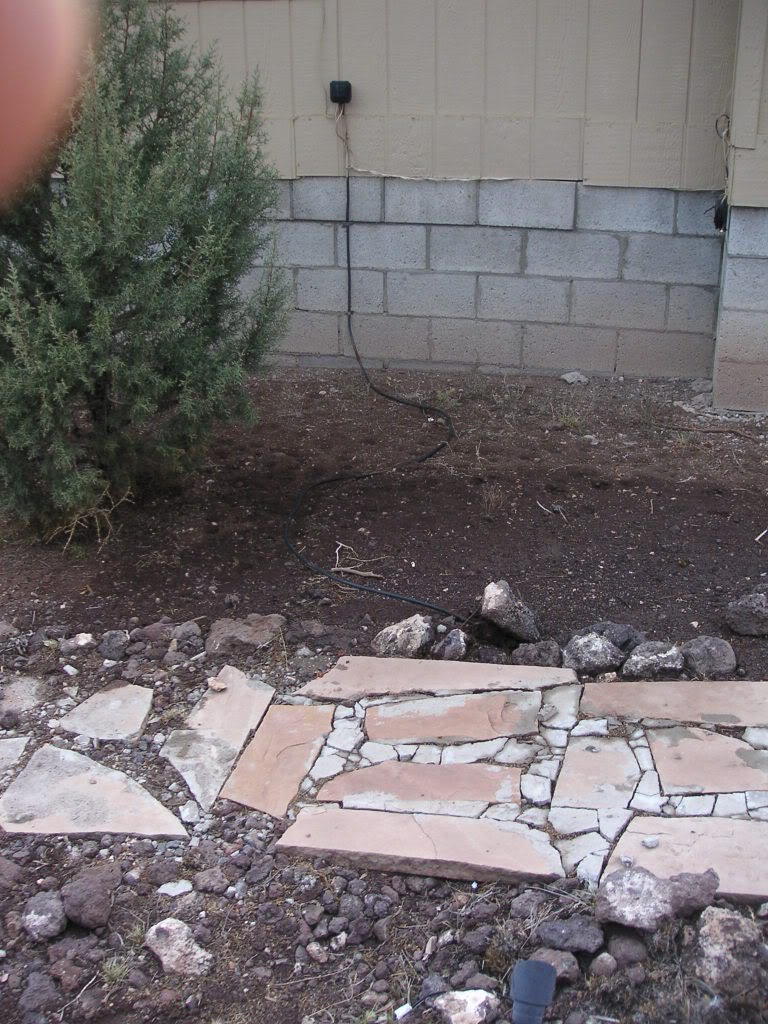 The telephone cable to my home was uprooted from a point on the adjacent property right up the junction box where it enters the house.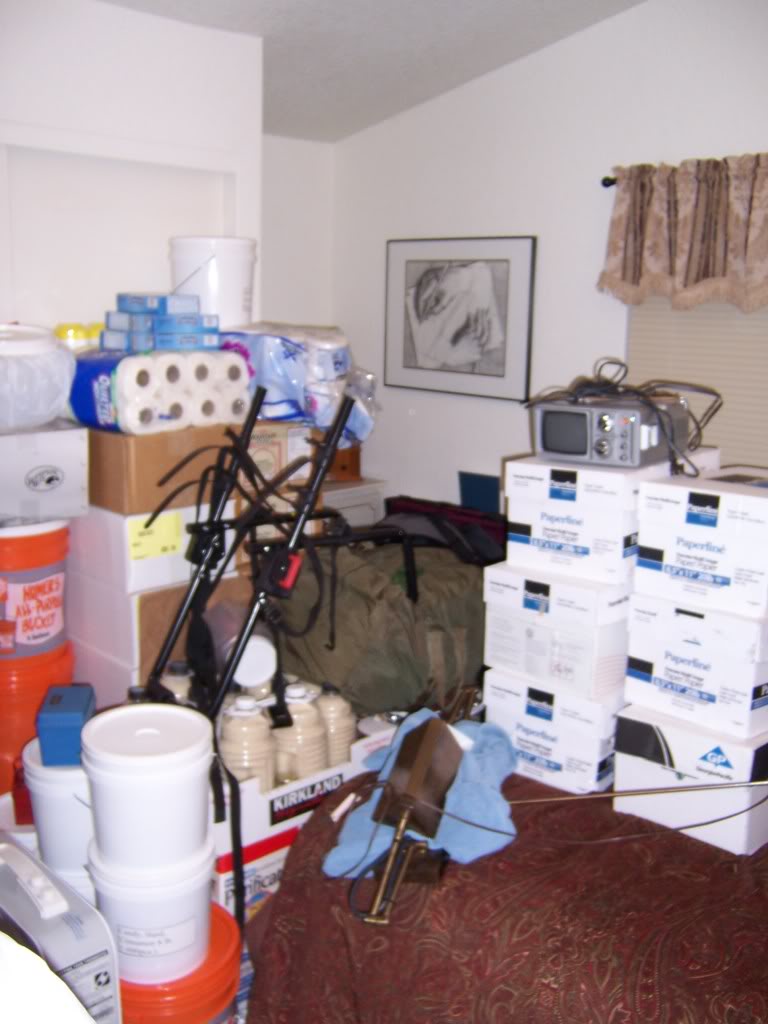 Added food, emergency lighting, and other reserves (above).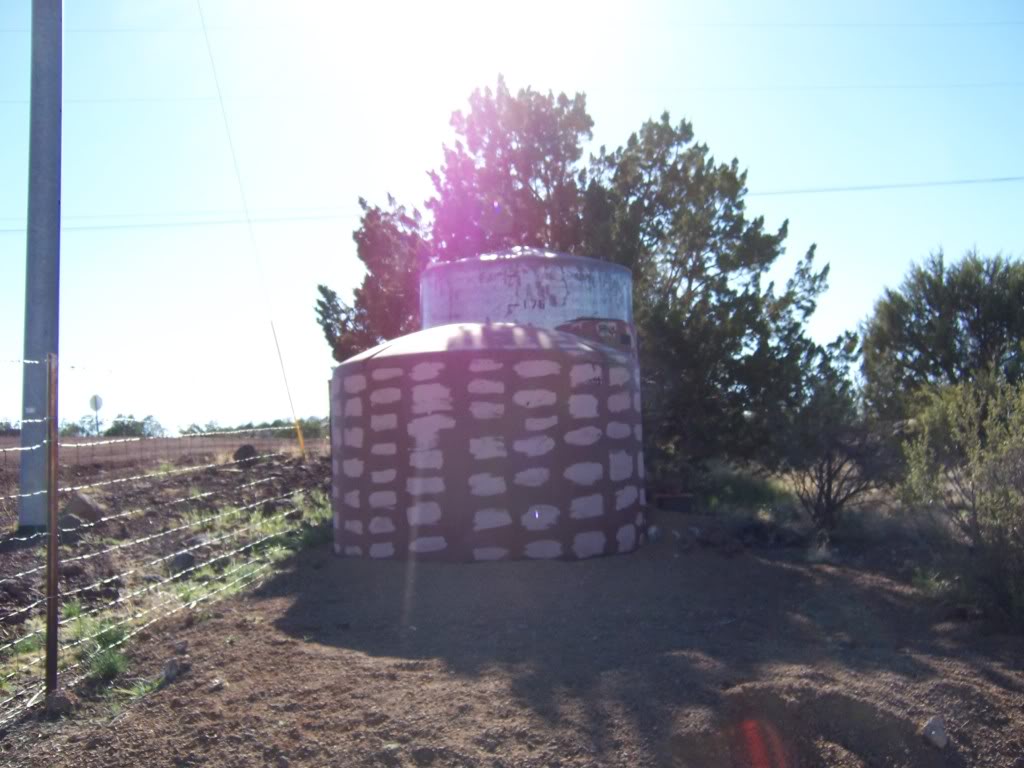 An additional 1,000 gallons of water has been brought on line and connected to the house pumping system (above) for a total capacity of 3,000 gallons.
As the world economic and political situation continues its decline I am also increasingly working to prepare for the likelihood of even harder time ahead.  I have increased long term food reserves, added an additional 1,000 gallons of water storage capacity and implemented a crude rainwater collection system.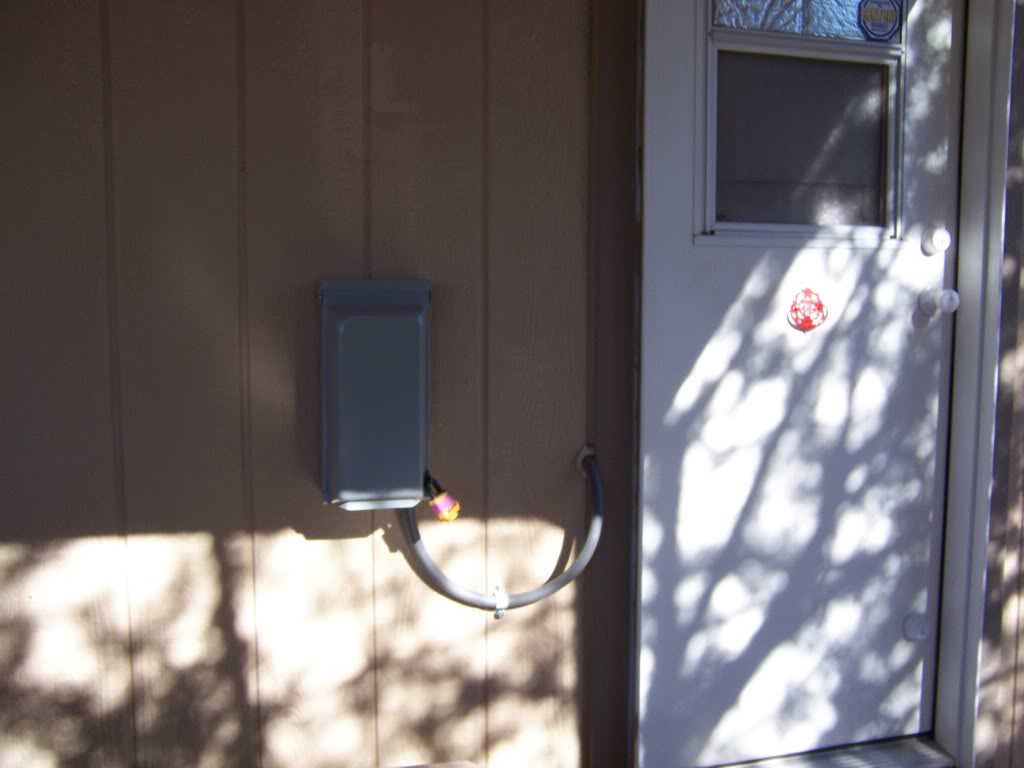 Generator,house power interface (above).
I've also completed installation of the back up generator switchover system which allows a seamless (and safe) transition of the house from grid to 5 kw of generator power. I am currently working on the support systems for a small (~ 250 watt) solar panel/battery bank system (battery house, charge controller and inverter)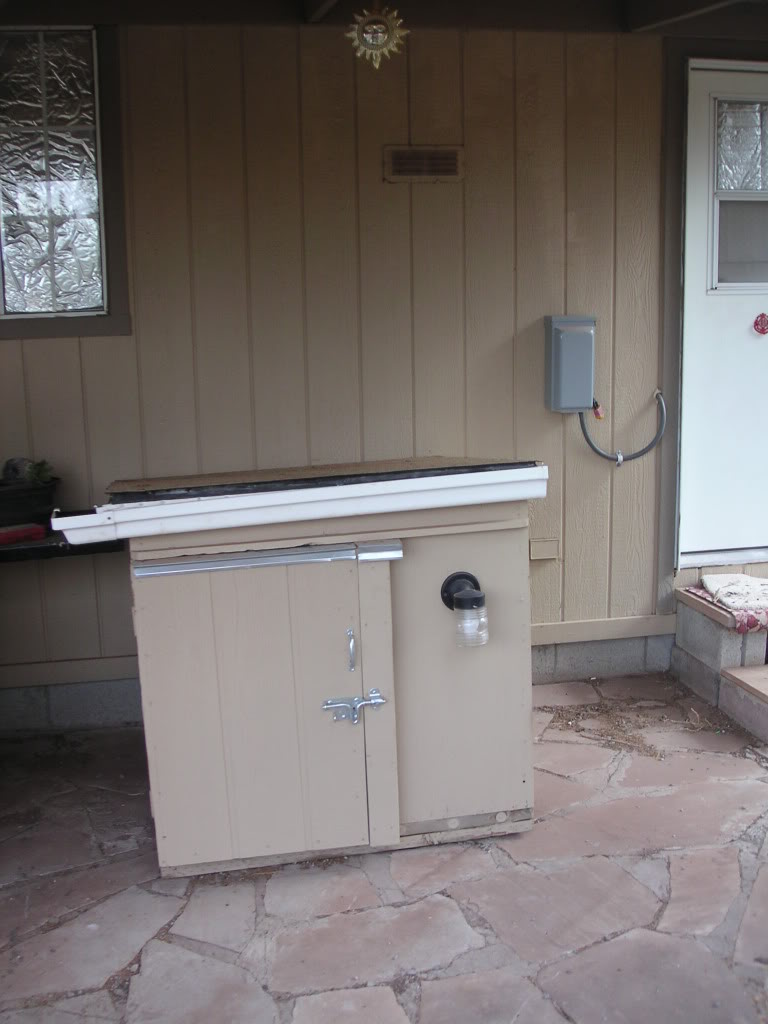 Heavily insulated and heated battery shed.
Another high priority has been to create the infrastructure required to allow year round cultivation of greens and root vegetables. As a child, I was responsible for maintaining our two "hotbeds" which provided our family with Bibb lettuce, Musclun, bunching onions and salad lettuce for most of the winter. That system relied on fermenting manure in a glass covered wooden frame that was largely buried in the ground to provide both heat and fertilizer.
Unfortunately, the large hysteresis in daily temperature here, coupled with the presence of abundant sunlight, creates real problems for that system of cultivation absent nearly constant attention.  Ambient temperature typically fluctuates between 50 to 60 degrees F during the day, to as low as the teens or low 20s at night. Days are often cloudless and bright which means that the temperature in any kind of glassed-in enclosure could easily and rapidly exceed  120 degrees F! Thus, such an enclosure would have to be opened and closed at least twice a day; with any failure to do so likely resulting in the loss of the crops.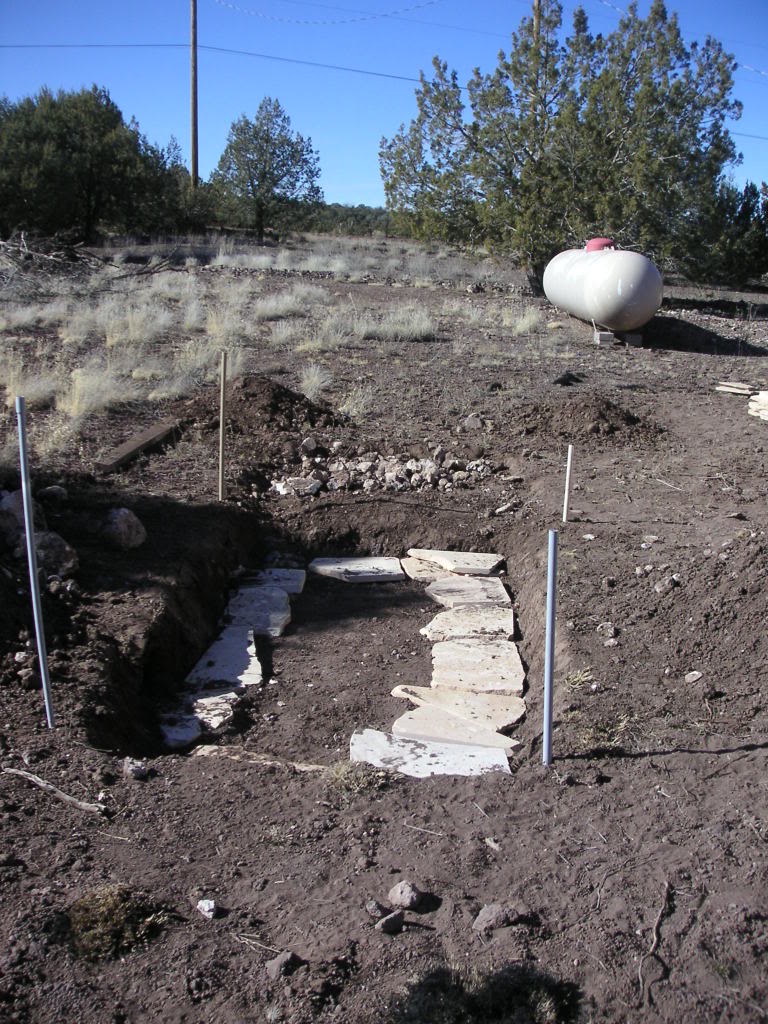 Initial excavation and stone-laying of the cultivation chamber. The tank visible in the background is a 1,000 gallon propane tank.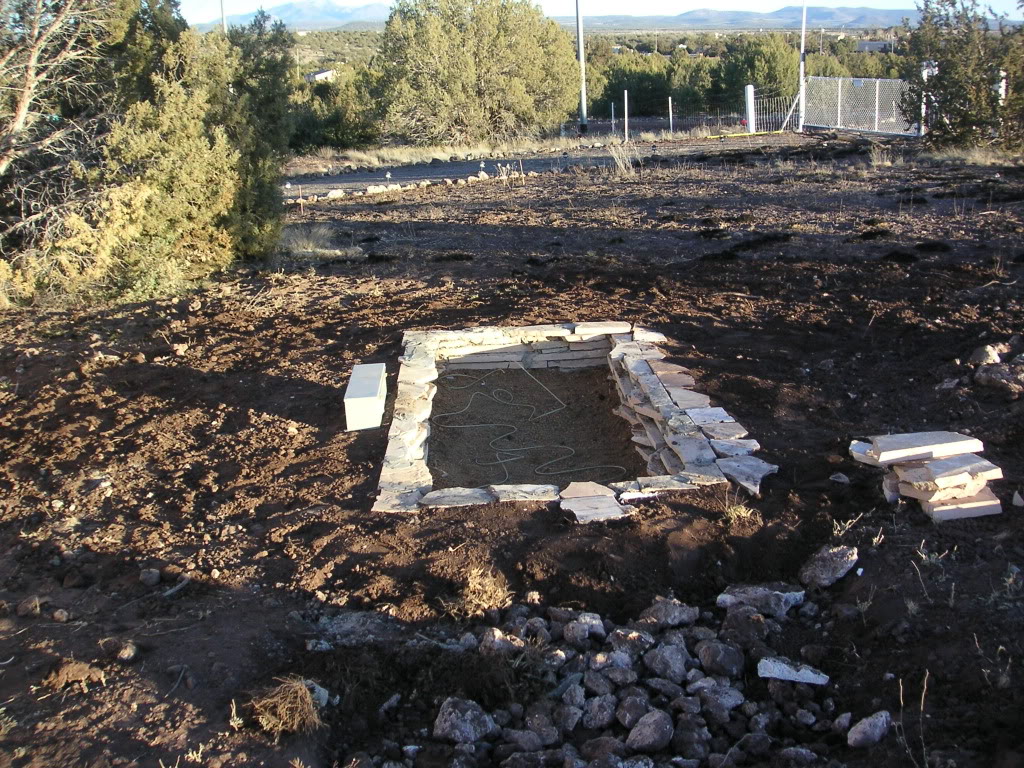 Nearly completed stonework with finished grading.
Until very recently, scrap Kaibab stone was available free here. Even now, it is only $20.00 for a level pick-up truck bed full. This has allowed me to construct a large, well insulated, earth sheltered and heat-sink protected cultivation chamber.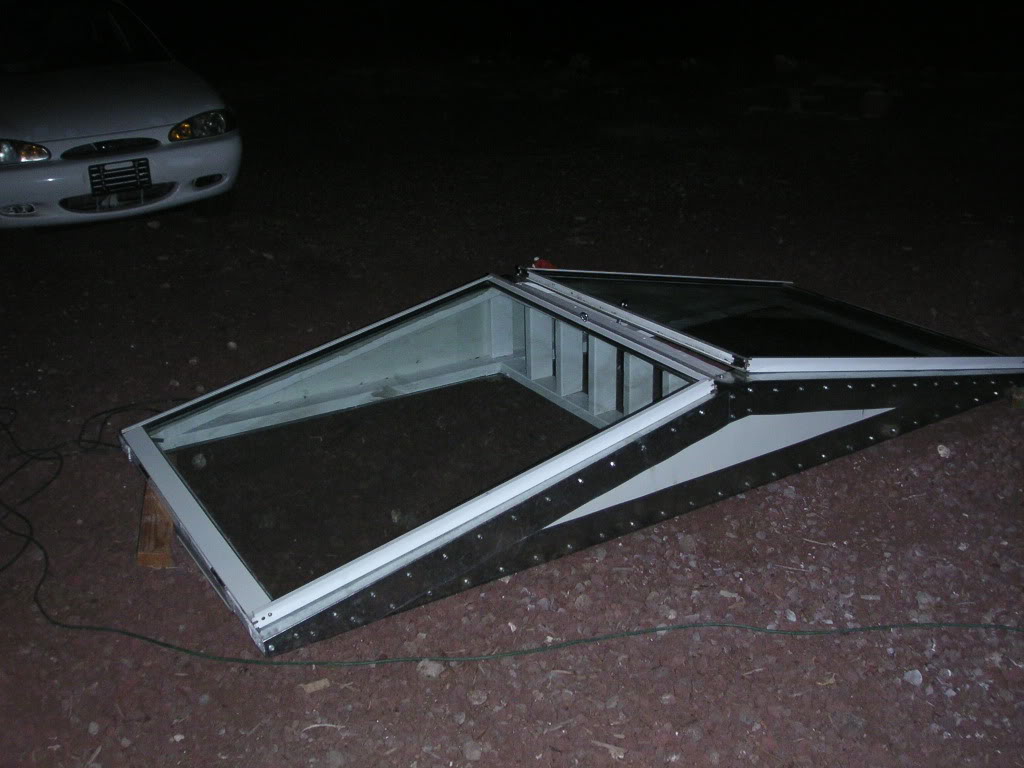 Construction is well underway on the sunlight admitting glass and environmental module that will be bolted to the stonework.  The cross members seen  in the photo above will soon be decorated with an automatic, solar powered climate control system. When the internal temperature exceeds the safe limit, a muffin fan is activated to bring in cooler air from the outside. In the summer, cool, moist air is generated and delivered via an underground network of pipes that also uses evaporative cooling. Watering is also automatically controlled. The entire set up was built to be resistant to penetration by radionuclides. This is a far more difficult challenge than keeping a stock of soil protected (which can be done quite simply by using earth covered tarps).
This project has been an especially high priority for me because it is no longer economically possible for me to have access to fresh greens, or similar, highly perishable vegetables. I live an hour's drive from any affordable shopping of this kind, and the prices of these items has also skyrocketed. With consumer petrol prices predicted to be near $5.00 per gallon by this summer, I will have to reduce resupply trips from every two weeks to once a month – and possibly longer. I believe that the prolonged absence of this kind of food from the diet is a serious health risk – as well as being an added misery.
Another food related project is the construction of a  chicken enclosure…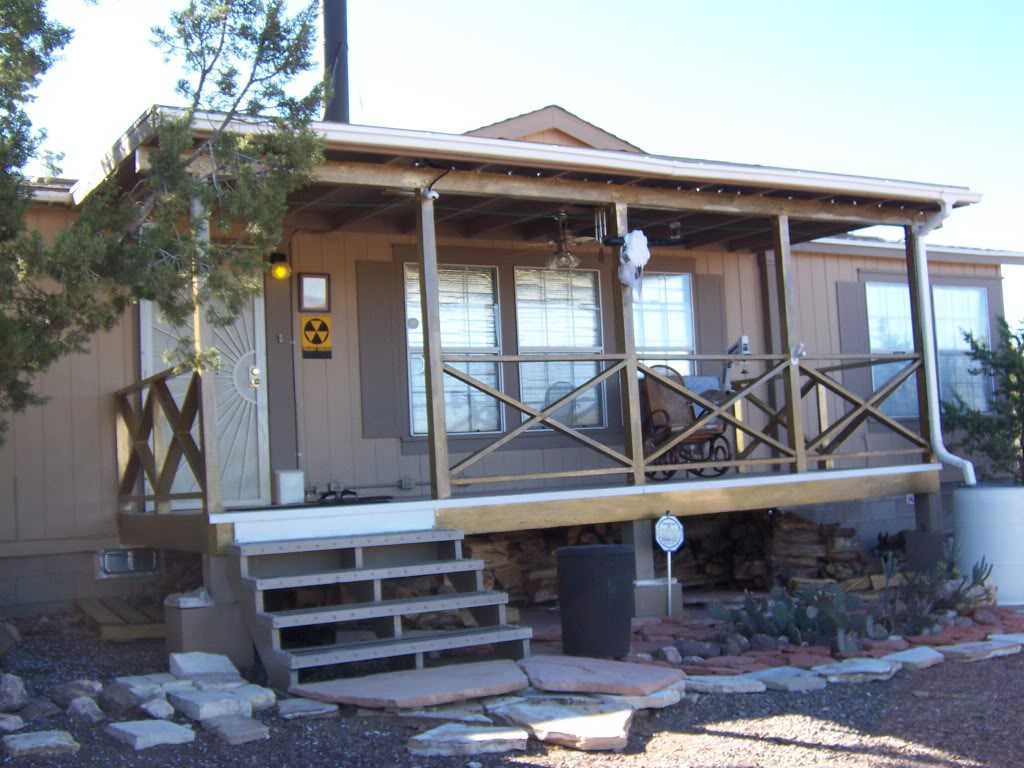 Heat wasting windows have been "replaced" with high grade insulation and firewood stores have been increased (above). The porch light is a high output, high efficiency LED bulb (60K hour life) brought back from Europe along with a suitcase full of others! The yellow coating was done by me.
Wood, like stone, is abundant here, and for a small fee to the Forrest Service it is possible to cut a great deal for the cost of the time, gasoline and wear and tear on the chain saw. I have thus increased my firewood reserves, and plan to increase them further. Sometime ago I "eliminated" all the windows in my home, or more properly, heavily insulated them with expanded polystyrene and fiberglass faced with a double sided, multilayer reflective heat barrier. This has reduced heating and cooling costs by over 90%. I am staggered at the massive amount of heat leak that occurs through so called "energy efficient" double pane windows.  Most people aren't in their homes during the daytime and when they are they are usually watching TV or on the computer. LED lighting is now so cheap (in Europe) that it is vastly more economical to light your home with electricity and dispense with energy gobbling windows altogether.  If you need to look outside – well, that's what cameras are for – and they can see in the infrared too, which means you can see what's going on in the dark.
Chronospohere, at least as it has been pursued so far, has failed to gain traction. I will explore what I think are the reasons for this at a later date.
For the present, I am busy and productive and working within my (small) resource constraints. Progress is slow because almost everything I do is on a no cash basis using items recovered from the waste stream, bartered for, or purchased as scrap for one cent on the dollar (or less). It is also slow, since I am doing it myself and learning as I go along. I am blessed with a good library of books on everything from electrical wiring to woodworking. The only books thrown out more consistently in the UK and the US than the Bible are 'self help' and 'how to' books. I am becoming increasingly convinced that many people buy such books with the expectation that merely owning them will somehow magically confer mastery of their contents. Probably the same is also true of the Bible.
I am attending to the large backlog of personal correspondence that has accumulated during my period of enforced isolation from the Internet, so, if you have written me, I apologize for the tardiness of my response in advance.  — Mike Darwin